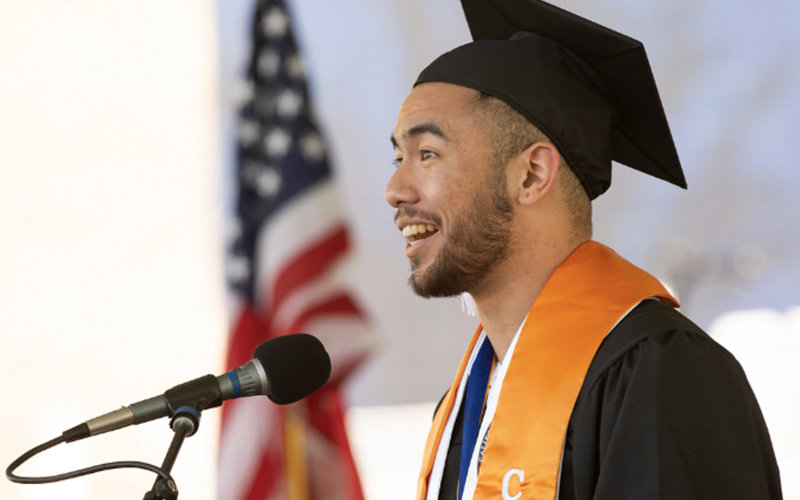 For 23 years, a Cal State Fullerton program has offered underrepresented and first-generation students an opportunity to conduct research and receive mentoring, all toward the ultimate goal of advancing their educational journey into a research career.
The National Institutes of Health-funded MARC (for Maximizing Access to Research Careers) program began with six scholars and high hopes. The two-year program has grown to 14 scholars under the direction of Amybeth Cohen, professor of biological science who has overseen the program since 2004.
Erick Aguinaldo graduated summa cum laude with a bachelor's degree in psychology and women's studies and will be entering the doctoral program in psychology and women's studies at the University of Michigan. Katia Niño completed her B.S. in biological science cum laude and this fall will enter the University of Colorado, Denver.
"As a product of immigrant parents and a first-generation college student, I learned early on to take advantage of any resources available to help me advance in my academic pursuits," explained Niño. "Joining my first research lab on campus underscored my passion for scientific inquiry and ignited the desire to attain a biomedical Ph.D. Having no clear sense of what direction to take to meet my career goal, I applied for the MARC program."
When he came to Cal State Fullerton, Aguinaldo "hadn't a clue" about going for an advanced degree. But with a growing interest in research, he lucked out when a teaching assistant encouraged him to apply to the MARC scholars program. 
"I fell in love with research. I really enjoyed it and went all in," he said.
"Admittedly, I was initially intimidated by the idea of 'thinking like a scientist,' feeling as though this was only a gift reserved for a few," noted Niño. "Overcoming this fear boosted my confidence and reassured me in my ability to succeed in a graduate program."
Aguinaldo stressed that the program made moving forward to a doctorate "more tangible for me. MARC provided a wealth of valuable tools: mentors, academic support, research experience and the experience of being around other scholars from diverse interests and backgrounds. It was very beneficial for my journey."
"Truly, the program is one-of-a-kind in that all MARC mentors, scholars — and everyone in between — are highly invested in the success of its participants and build a sense of community among each other," Niño added.
Both scholars see themselves as returning to academia, making research contributions and serving as mentors to their peers and students. "I would really like to be a professor and have been thinking about teaching at a California State University because of the balance of teaching and research," said Aguinaldo.
Other MARC Scholars who graduated this spring:
Christina Chavez, biological science-molecular biology and biotechnology, Vanderbilt University
Joshua Fonbuena, biological science-ecology and evolutionary biology, University of Utah
Sara Garcia, psychology, taking one-year break before entering a program
Vanessa Sanchez, psychology, University of Pennsylvania
Allyson Weir, biological science-molecular biology and biotechnology, UC Davis