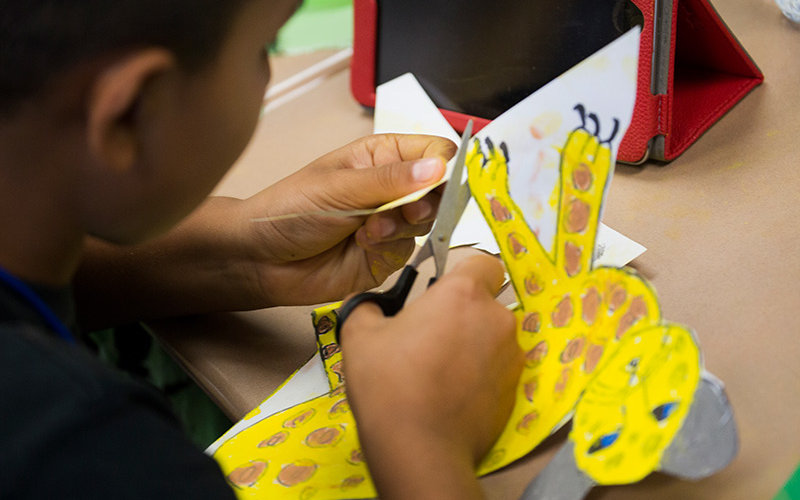 In a third-grade classroom this summer at Topaz Elementary School, Lucia Cortez's job was to support the young students' inquiry and natural curiosity about crickets that live in the rainforest — what they eat, why they make a loud chirping noise and how far they can jump. She also instructed students on using their imaginations to paint colorful pictures of crickets. 
Cortez was among two dozen recent education graduates and teacher credential students who participated in the professional development and co-teaching aspects of the Rainforest Safari Camp. The camp, offered in July through Cal State Fullerton's SchoolsFirst Federal Credit Union Center for Creativity and Critical Thinking, in partnership with Placentia-Yorba Linda Unified School District, served about 500 students at Topaz, Melrose and Rio Vista elementary schools.
"We partner with the school district to support English learners in their development of language skills to increase engagement and academic success in school," said Christine A. Mayfield, director of the center, housed in the College of Education.
For Cortez, who plans to become an elementary school teacher, co-teaching the Rainforest Safari Camp was an opportunity to work with students on expanding their English literacy skills by integrating engaging art and science lessons about rainforest animals, insects and biomes.
My hope is to teach students that if they believe in themselves, they can succeed. — Lucia Cortez
The CSUF student teachers participated in professional development sessions to teach daily lesson plans by using instructional strategies and teaching skills they learned in teacher preparation courses. During the camp, they worked alongside the district's veteran teachers who shared their teaching knowledge and classroom experiences.
"I wanted to teach the camp because I knew it would be a rich experience for me to grow as a teacher," said Cortez, a Class of 2019 graduate who earned a master's degree in education-curriculum and instruction and completed the credential program to teach elementary school. 
Cortez, who also earned a bachelor's degree in child and adolescent development in 2016, plans to take the rainforest curriculum into her own classroom, as well as expand the lessons by incorporating writing, reading and mathematics. 
"Thanks to this experience, I have honed my teaching skills in a variety of ways. I learned so much about developing lesson plans to fit students' needs, that it's important for teachers to collaborate and what it takes to be a dedicated teacher," she said.