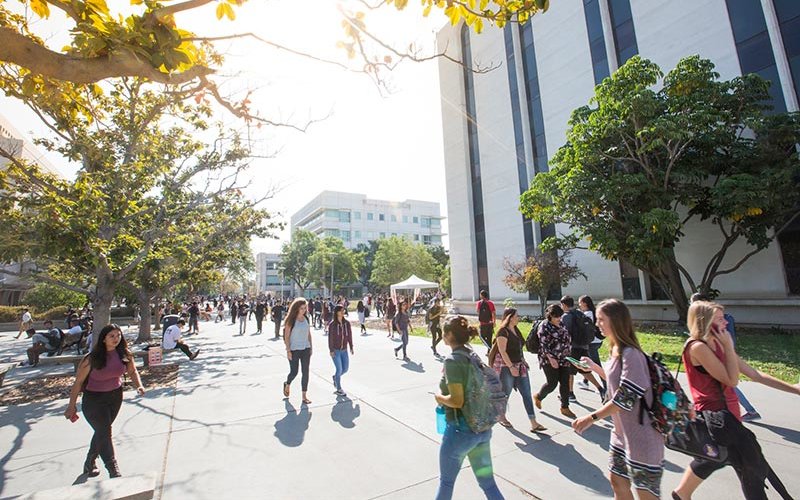 When Cal State Fullerton's fall semester begins, Titans will notice a few changes on campus. There's a new sign, a new walkway and renovations continuing on the Quad.
The fall student population — approaching 40,000 at press time — also may notice more sprucing up throughout the campus grounds. Construction has begun on a new parking structure and renovations continue in the Pollak Library, repairing damaged caused during a 2014 earthquake and reimagining spaces to meet the needs of the campus community, including more student-centered seating, collaborative space and enhanced technology.
This fall, the university will be celebrating the renaming of the University Hall Building to honor the legacy of service by late University President Milton A. Gordon. The dedication ceremony is scheduled Sept. 20.
In addition to new and returning students, the campus community is introducing more than 45 new faculty members, most of whom will be in classrooms Monday, Aug. 26, and Tuesday, Aug. 27, although classes officially begin the Saturday before.
In addition, the university is welcoming a number of administrators stepping into new roles, including Harry Le Grande, vice chancellor emeritus of UC Berkeley, who will serve a one-year term as vice president for student affairs, and Bey-Ling Sha new dean for the College of Communications. A complete list of new campus appointments can be found here. 
Changes to Programs, New Concentrations
Among Cal State Fullerton's 110 degree programs, the university changed its bachelor of science in athletic training to a master's program. The change was effective for the new summer 2019 cohort of students. 
In addition, a new concentration is being offered in the undergraduate business administration degree: business and economics analysis.
The new concentration "will provide students with integrated knowledge of business-economics, processes for data management and a wide range of analytical tools for performing data analysis to make better strategic and tactical business and economics decisions," explains Jenny Zhang, associate dean for Mihaylo College of Business and Economics. "Students in this concentration learn much more than quantitative skills: they are able to contextualize economic and social issues in a broader regional, national and international framework and use their analytical skills to gain valuable insights."
Parking
Students will be offered three new programs from Parking and Transportation in addition to assisted parking for the first weeks of the semester, three-hour parking for short campus visits and a wide range of alternative transportation options. New this fall are:
discounted semester parking permits for those using off-site parking at the Evangelical Free Church in Fullerton
a new carpool program called Waze 
the introduction of a new commuter effort: Titans Travel Together Tuesdays
Details can be found here.
Key Events
SEPT. 4-5
Student Life and Leadership hosts Discoverfest, a showcase of university clubs and organizations where students have the chance to learn about engagement opportunities, from 11 a.m.-2 p.m. Location to be determined. 
SEPT. 5
CSUF President Fram Virjee welcomes students, faculty and staff members during the university's annual Convocation address. 2:30 p.m. in the Titan Gymnasium.
SEPT. 12
Students can speak to program advisers and learn about options for studying abroad at the Study Abroad Fair, from 11 a.m.-3 p.m. along the pathway between the Pollak Library and the Titan Student Union. 
SEPT. 21
Concert Under the Stars features an evening of dazzling musical entertainment performed by students and alumni culminating in a fireworks spectacular.