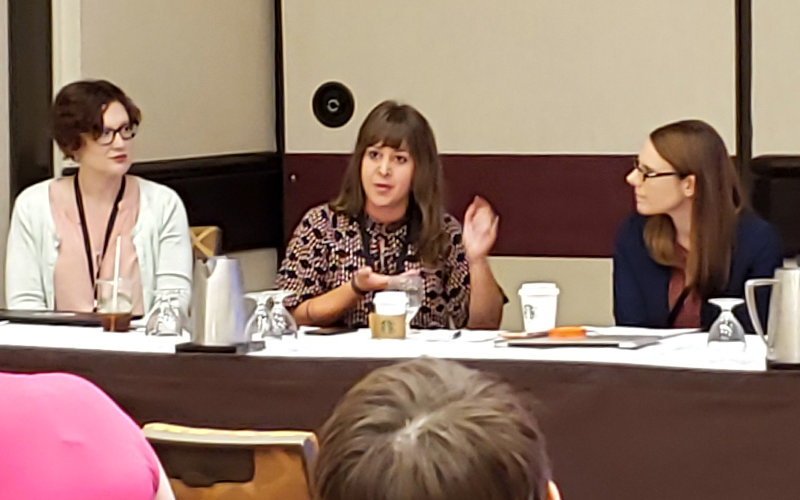 Faculty were busy in the last couple of months, making presentations and having work published. Among them are:
John Hickok, international outreach librarian at Pollak Library, has taken 15 years of scholarly research of libraries, librarians and students from throughout Asia and penned "Serving Library Users From Asia: A Comprehensive Handbook of Country-Specific Information and Outreach Resources." The book features 24 chapters of every culture of Asia — from Indonesia to Mongolia — and offers professional advice to librarians on how to best serve each culture. 
Three CSUF faculty members contributed chapters to the recently published book, "Latinx Ciné in the Twenty-First Century." Rebecca Sheehan, associate professor of cinema and television arts, wrote "Serious Docu-games: Empathy in Action at the Virtual Border"; Henry Puente, professor of communications, authored "Pantelion Films and the Latinx Spanish-Language Film Marketplace"; and Monica Hanna, associate professor of Chicana and Chicano studies, composed "Reframing the Border in Contemporary Mexican American Documentary."
At the recent Association for Education in Journalism and Mass Communication conference, Chelsea Reynolds, assistant professor of communications, presented "Social Justice, Journalism, and Finding a Voice for Untold Stories," about her experiences advising TUSK magazine, and moderated the top research papers sessions for the AEJMC Lesbian, Gay, Bisexual, Transgender & Queer Interest Group. Reynolds also proposed and organized panels on how corporate media have both co-opted and improved representation of LGBTQ communications; and the ways in which consumer media represent and co-opt social justice discourse and messages of resistant political action.
Yuying Tsong, associate professor of human services, recently gave an address as president of the Society for the Psychology of Women at the 2019 American Psychological Association convention Aug. 7-11 in Chicago. Also at the August convention, Tsong and alumna Melissa Ward '19 (M.S. counseling-marriage and family therapy) presented "Sexual Assault Survivors' Disclosure and Help-Seeking Behaviors." 
In October, Tsong and Eliza Noh, professor of Asian American studies, are among the presenters of "Women & Therapy: Asian American Feminist Scholars' Reflections and Transformations" at the 2019 Asian American Psychological Association annual conference in San Diego. In addition, Tsong will join alumna Coco Shuo Wang '19 (M.S. counseling) in presenting "Exploring Clinicians' Insights on Utilizing Feminist Theory to Work With Asian Sexual Minority Clients" and "A Qualitative Exploration of Asian and Asian American Sexual Minority Individuals' Experience in the United States" at the Oct. 4-6 conference.