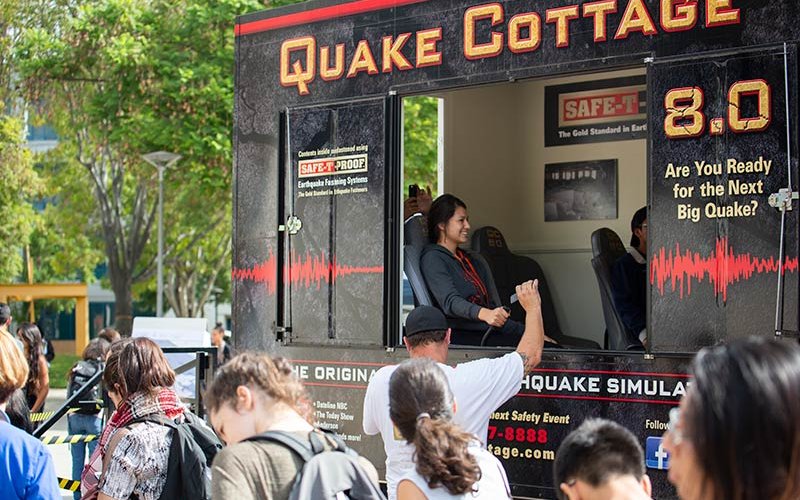 NOTE: the Oct. 10 event will be held from 9 a.m. until 2 p.m. in the area north of the Titan Bookstore.
Nearly every day, an earthquake strikes somewhere in the state of California.
To increase awareness of the dangers of earthquakes, such as the 6.4 and 7.1 quakes that struck the Ridgecrest area in July, and the importance of preparing for such events, University Police have scheduled two October programs for the campus.
To learn more about just what an earthquake can do, an earthquake simulator will be located in the Quad from 10 a.m. to 2 p.m. Thursday, Oct. 10. Campus members can "experience" an 8.0 earthquake in the simulator, then watch a liquefaction demonstration by the Geology Club, as well as receive  information on quakes and emergency preparedness. 
Ready America will be bringing emergency supplies, such as preparedness kits, tools and other supplies to make getting prepared simple and easy, says Susan Fisher, emergency coordinator in University Police.
A week later, at 10:10 a.m. and 7:10 p.m. Thursday, Oct. 17, campus members will be joining other state residents in a Great ShakeOut exercise. 
"There will be a campuswide announcement to 'Drop, Cover and Hold On,' which will last about four minutes," explained Fisher. There will be no evacuation. "Everyone is encouraged to take this time to participate and consider ways in which they can get prepared for 'The Big One.'"
For more information on earthquakes and other emergency situations, check out the university's emergency preparedness website.