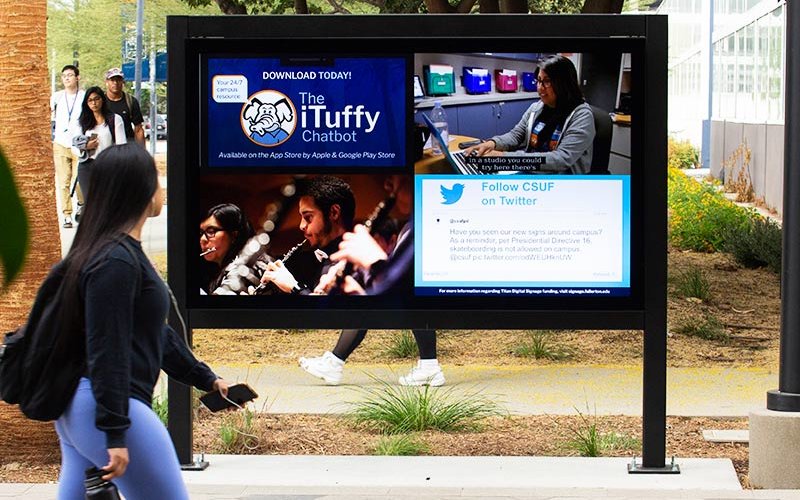 A few weeks into fall semester, most faculty, staff and students have seen the new electronic signage dotting the landscape of Cal State Fullerton's main and Irvine campuses. 
Installed by the Division of Information Technology, Rommel Hidalgo, associate vice president for information technology/innovation officer, explains that the signs are part of the Titan Digital Signage Project, which is one facet of a campus-wide effort to align with the university's 2018-23 Strategic Plan (Goal 1) of enhancing the Titan experience, including student participation in events, student pride and connection to the university.
"The project also supports IT's strategic plan goal of enhancing the distribution of digital educational content. With the signage that is now in place, we can broadcast academic content, university events and timely information — including emergency messages — to the entire campus community."      
Screens in the academic colleges are controlled by those colleges, allowing them to display information relevant to their college. Signs in common areas, are controlled by the Strategic Communications Department of University Advancement and broadcast general campus information. 
To post a message on a sign, contact the appropriate college, department or division. To add content from Twitter pages owned and operated by Cal State Fullerton academic or administrative units, contact IT Communications.
IT officials will complete phase one of the Titan Digital Signage Project installation by the end of fall semester. 
Learn more on the IT website.