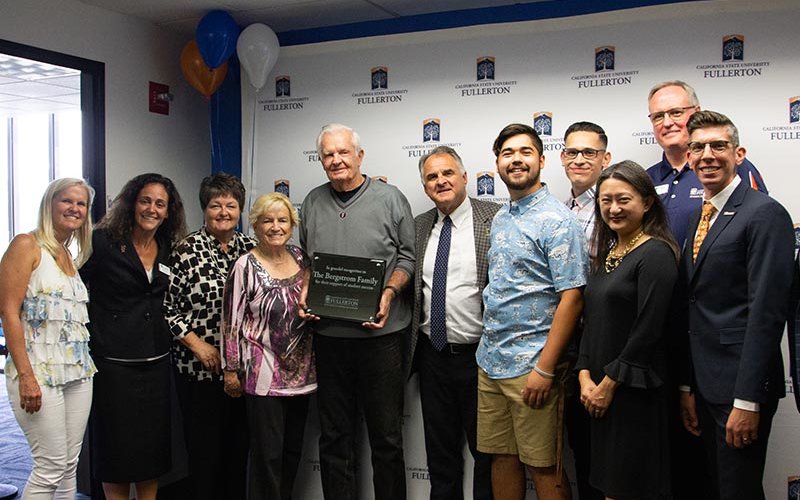 The College of Communications at Cal State Fullerton celebrated the grand opening of its new Student Success Center space Sept. 25. 
Addressing a packed room of faculty, staff, alumni, students and members of the Bergstrom family — who helped make the center possible — President Fram Virjee exclaimed that the center "advances who we are and what we're all about — which is students. 
"The college is an exemplar of what it means to focus on students and student success, and now we have a place and space that demonstrates everything that you have been doing for quite some time."
Associate Dean Deanna Leone, who heads up the Student Success Team, explained that the new space, located in Room 210 of the College Park building, centralizes where students can seek out college-specific academic advising, serves as a place for them to connect with campus opportunities such as leadership and professional development, and guides students to other services on campus. 
"Most of all, the center provides a place for students to develop and nurture a sense of community with the university, with the college and with each other." 
CSUF has student success centers for each college and the Irvine Center, as well as teams for graduate students and special populations. In 2017, the center model was honored as a promising practice in the area of student and academic affairs collaboration by the Student Affairs Administrators in Higher Education (NASPA), a national association of student affairs professionals in higher education. 
For more information on the College of Communications Student Success Center, visit their web page.