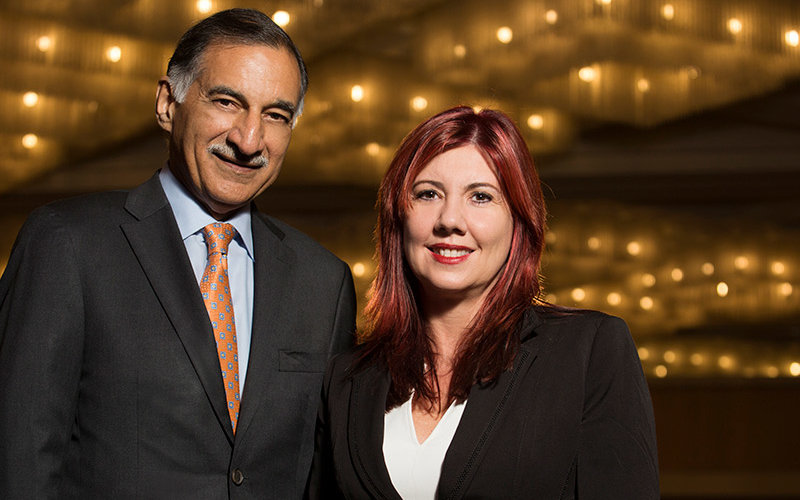 Trade wars, slowing global growth, yield curve inversion and souring business sentiment — is it a "perfect storm" of economic factors leading us into a recession?
This will be the question on everyone's mind when Cal State Fullerton economists Anil Puri and Mira Farka take the stage Wednesday, Oct. 30, at the Economic Forecast Conference, "Deal or No Deal? The Art of Business in an Aging Expansion."
Puri and Farka, director and co-director for the Woods Center for Economic Analysis and Forecasting, respectively, will discuss the economic outlook for the U.S. and Orange County, including the possibility of a recession and their assessment of the labor and housing markets, interest rates and threats to continued economic growth.
Puri, a CSUF faculty member since 1977, has served as dean of the Mihaylo College of Business and Economics, as well as interim provost and vice president for academic affairs. With this year's conference, he has presented the biannual economic forecasts for 25 years.
Farka, an associate professor of economics, joined the university in 2005. She has published in leading academic journals and is frequently invited to share her financial and economic expertise with businesses, government and educational organizations.
Joseph Otting, U.S. comptroller of the currency and acting director of the Federal Housing Finance Agency, will provide the keynote address. He is the administrator of the federal banking system, directs the Federal Deposit Insurance Corporation and is a member of the Financial Stability Oversight Council and the Federal Financial Institutions Examination Council.
The 25th annual Economic Forecast Conference, co-sponsored by Cal State Fullerton's Mihaylo College of Business and Economics and the Orange County Business Council, will be held at the Hotel Irvine, 17900 Jamboree Rd., Irvine.
Registration and networking begins at 11 a.m. followed by the luncheon program at 11:30-1:30 p.m.
The cost is $200 per person or $1,600 for a corporate table of 10. Sponsorships also are available. Reservations are required and can be made online.
For more information, contact Trish Reed, 657-278-7918.