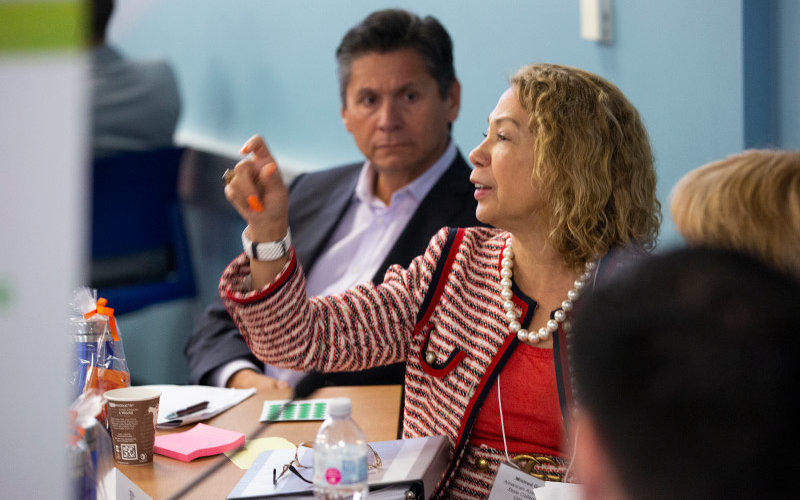 On Oct. 3-4, members of The Bill & Melinda Gates Foundation's Postsecondary Value Commission chose to convene one of their four meetings at Cal State Fullerton to better understand the value of a college education.
Why did they choose to come to Cal State Fullerton?
"That was my idea," said former CSUF President Mildred García, who currently serves as president of the American Association of State Colleges and Universities, and is co-chair of the Postsecondary Value Commission.
 "I love coming back here. I'm so impressed with this campus and the growth of programs that reach out to diverse groups of people. I feel like a proud mama seeing how these programs have grown and how Cal State Fullerton is able to reach out to more and more students.
Over the decades, there is increasing evidence that higher education has the potential to not only change the lives of college graduates … but their families and future generations. More recently, the cost of that education, as well as barriers to earning a degree, have been the focus of national attention. 
"Since the goal of the commission is to determine the value of higher education, we've been speaking with students, researchers, alumni, employers," she continued. "We are gathering different perspectives to determine how we define value." 
While the commission will focus on the economic returns of education after high school, it recognizes that there are real and significant noneconomic returns, such as developing critical and creative thinking skills, and enhanced health and civic participation, many of which are directly related to employment and career outcomes.
"When we look at higher education, we must ask ourselves what are the true costs? We understand that higher education is an investment but we also want to look at ways to make it more affordable. Some students have full-time jobs, family obligations or other responsibilities. How do we provide needed services to all students to ensure that they reap the benefits? How are we educating students? How are we preparing them?" said García.
After the commission releases its findings in mid-2020, the Institute for Higher Education Policy (the managing partner for the commission) will work with a broad range of higher education and policy organizations to raise awareness and identify opportunities to apply the value definition and measurement framework.
About Cal State Fullerton
Based on its track record of enhancing social mobility, providing economic growth, and eliminating the "opportunity gap" for students of color, lower socio-economic status and other factors, Cal State Fullerton stands as a model of how higher education provides a pathway to success.
Among its successes, Cal State Fullerton has been ranked as a leader in multiple areas. This includes being ranked #4 in the nation for baccalaureate degrees awarded to underrepresented students based on data from the U.S. Department of Education. The university also appears in the top third of universities on Washington Monthly's 2019 "Best Bang for the Buck: West" list; among the top U.S. institutions for "best value" from Forbes; and #3 on  U.S. News & World Report's "Top Public Schools" list and among in its top regional universities of the West, which offer a broad scope of undergraduate degrees, master's degree programs and some doctoral programs.
In fact, 41.5 percent of the student body are Hispanic/Latinx and 20.9 percent are Asian. Twenty percent are white and 7.6 percent are international students. Other ethnicities are 4 percent or less.