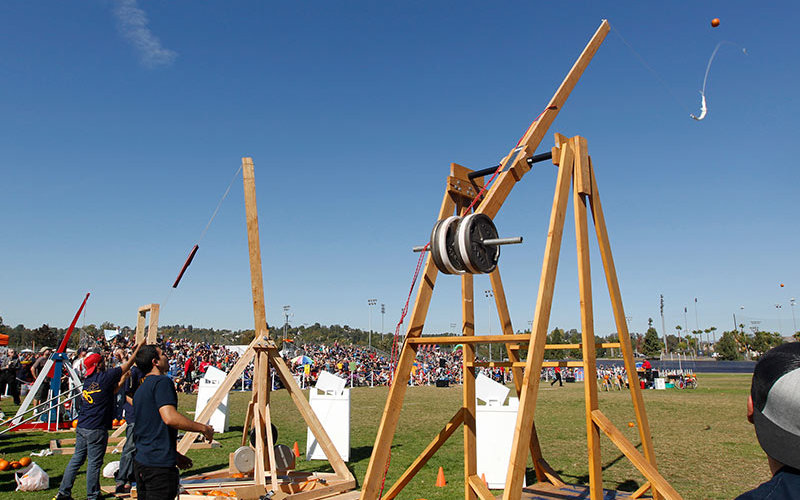 Cal State Fullerton mechanical engineering major Aryanna Pham and team Theta Tau hope to crush the competition with a slingshot-styled pumpkin chucker in the 12th annual Pumpkin Launch on Saturday, Nov. 2.
The Theta Tau team designed the device with both distance and accuracy. Members of the professional engineering co-ed fraternity scrapped their previous year's trebuchet design for an improved model that launches pumpkins about 200 feet with strength and precision.
"This year we are taking a different approach," said Pham. "The slingshot catapult utilizes stored elastic energy in the rubber bands to shoot a projectile at the maximum release speed, delivering the accuracy required while clearing long distances."
The Pumpkin Launch, hosted by CSUF and Discovery Cube, is free and open to the public, drawing 3,000 to 5,000 people to the athletics fields along Gymnasium Campus Drive. Hands-on STEM (science, technology, engineering, mathematics) activities, competitions for children, and project displays from engineering and computer science students are set for 10 a.m. to noon. The competition begins at 12:30 p.m. and the awards ceremony starts at 1:30 p.m.
Teams launch pumpkins into the air with trebuchets, catapults, slingshots and other machines aimed at medieval-themed targets. The group that hits targets and scores the most points wins the coveted Pumpkin Trophy.
About 15 collegiate, high school, and middle school teams are set to compete, including six teams from Cal State Fullerton. The CSUF Society of Women Engineers team will defend its first-place title after winning last year's challenge with 50,000 points. The CSUF Institute of Electrical and Electronics Engineers team is eager to snag the trophy, after placing in second in 2018.  
"The Pumpkin Launch is a great way to present engineering in a fun and creative way through pumpkin launches and to expose kids and the community to STEM with educational activities and fun," said Nancy Hernández-Guillén, events and projects analyst for the College of Engineering and Computer Science.
Spectators are encouraged to register online at Discovery Cube. Weekend day parking is free on campus, 800 N. State College Blvd., Fullerton. A CSUF map and directions are available online. Food will be available for purchase from food trucks.