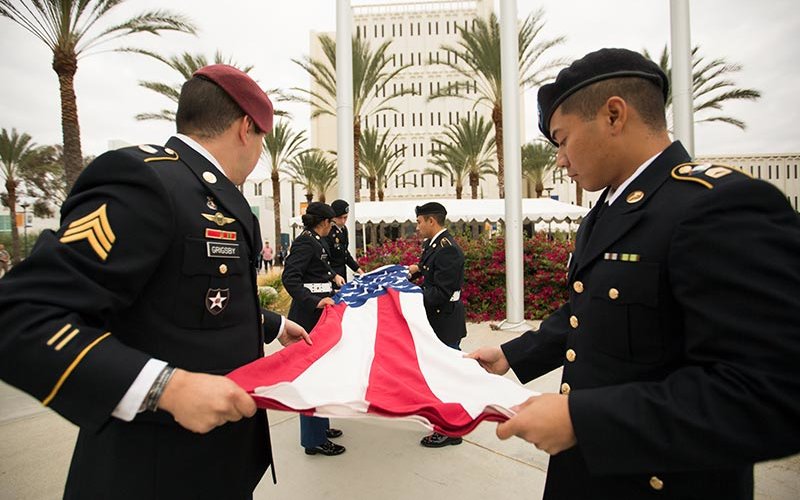 Cal State Fullerton's Veterans Resource Center is hosting activities in November to pay tribute to veterans, beginning with a 9 a.m. "Morning Colors" flag raising ceremony on Monday, Nov. 4, in front of Langsdorf Hall.
The public event, held in remembrance of all U.S. military veterans, will feature remarks by CSUF President Fram Virjee; Cameron Cook, director of the Veterans Resource Center; and Andrew Romo, president of the Student Veterans Association. 
"For service members and veterans, the flag is about those intangible notions like freedom, glory and pride. But it's more than that. It's about our country. It's home. It's our family and friends. It's about the people in uniform to the left and right of us — it symbolizes all of those things that we are willing to give our life for," said Cook, a Marine Corps veteran.
Major Michael F. Coerper, executive officer of CSUF's Army ROTC Titan Battalion, who teaches in the university's military science program, also will deliver remarks. Coerper, a graduate of the United States Military Academy, deployed three times, twice in support of Operation Iraqi Freedom, including the liberation of Iraq in 2003, and once in support of Operation Enduring Freedom. 
To commemorate Veterans Day, observed on Nov. 11, the Veterans Resource Center is planning activities for campus student veterans, including a luncheon with Virjee, a celebration of the 244th birthday of the U.S. Marine Corps, a family hike, and a day at Knott's Berry Farm. 
The activities are a way for Titans to recognize the contributions and sacrifice student veterans have made in their service to their country, Cook said.
Other events open to the public are:
10:30 a.m. Monday, Nov. 11, Fullerton's Veterans Day Parade, presented by the city. CSUF student veterans are participating in the downtown Fullerton parade.
5 p.m., Wednesday, Nov. 13, Vets vs. Cadets Flag Football Game, featuring student veterans and ROTC cadets at CSUF's track and soccer field.
For more information, contact Melissa Romo, Veterans Resource Center, or call 657-278-8156, or visit the Veterans Resource Center website.