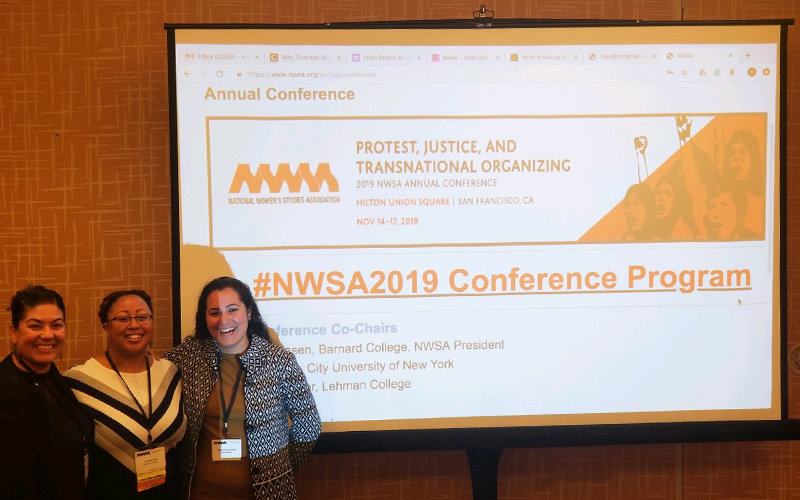 Cal State Fullerton faculty have recently presented or had their research published. Among the contributions are:
Three faculty members from the Women and Gender Studies Department gave presentations at the Nov. 14-17 National Women's Studies Association conference in San Francisco. Their presentations included "Creating a New World Order: Trans and Queer Black, Indigenous and People of Color Activism" by Latoya Lee, "Transformative Justice Approach to Campus Sexual Assault at Michigan State University" by Xhercis Méndez, and "Medicine Stories: Transformative Lessons From the Healing Justice Movement" by Tala Khanmalek.
Michelle Martin, assistant professor of social work, presented "Humanitarian Crises at the Border: Helping Students Reclaim Social Work's Radical Roots" at the Oct. 24-27 Council on Social Work Education Annual Program Meeting in Denver, Colorado.
Sharon Sekhon, lecturer in American studies, gave an Oct. 25 talk for Loyola Marymount University's KaleidoLA speaker series. Sekhon is the founder and executive director of the Studio for Southern California History, a nonprofit dedicated to chronicling the region's social history to foster a sense of place.
Publication
Douglas J. Swanson, professor of communications, saw his article "Mindful Engagement Practices for Disengaged PR Pros" published Oct. 11, on the O'Dwyer's: The Inside News of PR & Marketing Communications website. The piece references findings from his recent research on mindfulness in public relations and Generation Z perceptions of learning.