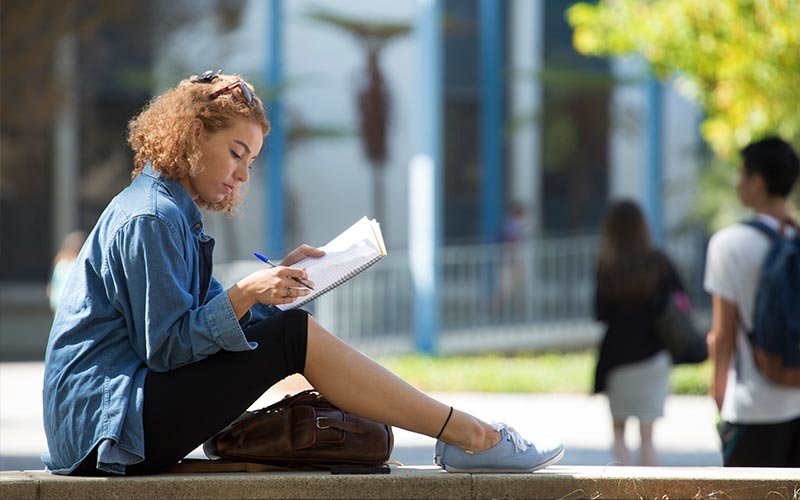 Cal State Fullerton ranked in the top 5% of the nation's four-year public institutions for the number of bachelor's degrees awarded to English and history majors, according to a new listing from The Chronicle of Higher Education.
The university ranked No. 18 of 495 schools for bachelor's degrees awarded to history majors and No. 23 of 518 schools for bachelor's degrees awarded to English majors between 2017 and 2018, according to the Jan. 12 article, "Where Do History and English Majors Come From?"
Relevant curriculum, hands-on training, distinguished faculty and highly transferable skill sets are among the reasons students are drawn to CSUF's history and English programs, according to the College of Humanities and Social Sciences.
"In the English Department, we've continued to update our curriculum to reflect the vibrancy of the modern English degree, while still maintaining our dedication to the core skills and areas of study that have defined the degree for several generations," said Stephen Mexal, chair and professor of English, comparative literature and linguistics.
Examples include Nicole Seymour's "Literature and the Environment" course, which explores the emerging genre of climate fiction, and the English Department's participation in a campuswide tribute to the 200th anniversary of the novel "Frankenstein."
Jasamin Rostam-Kolayi, chair and professor of history, said that the History Department is "a regional leader in teaching applied fields, such as public, oral and digital history." She cited such programs as the Lawrence de Graaf Center for Oral and Public History, which provides hands-on opportunities for student research, internships and experiential learning.
Rostam-Kolayi also highlighted the program's "strong curriculum in both U.S. and world history" and "talented, versatile, and intellectually and socially engaged" faculty members such as professor Benjamin Cawthra, who recently lent his expertise to a documentary on jazz icon Miles Davis.
Mexal noted that an English degree "offers a portable set of skills that prepare students to be successful in any number of careers."
Two-time alumna Blythe Hill '08, '11 (B.A., M.A. English) is now the CEO and founder of the Dressember Foundation, a nonprofit that aims to end modern-day slavery. She credits CSUF for helping her develop the necessary storytelling and research skills to lead her organization.
"English majors tend to be critical thinkers, quick learners, and creative and sensitive communicators," said Mexal. "In an increasingly globalized economy, these are all skills that businesses want."