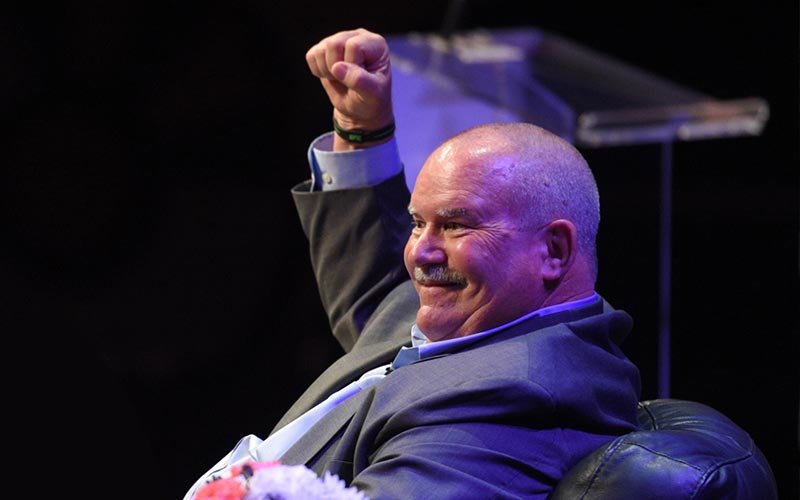 Known for his "sweet shades," an ever-present 64-ounce Big Gulp and a puka shell necklace, legendary Titans Baseball coach George Horton recently returned to his alma mater to help raise more than $150,000 for the team at its annual Dinner With the Titans event.
Dozens of former Titans Baseball players, many of whom were recruited by Major League Baseball teams, were among the 430 supporters at the Jan. 24 fundraiser at the City National Grove of Anaheim.
One of the most recognizable names in Cal State Fullerton athletics history, Horton helped guide the Titans Baseball program to two national championships — one as an associate head coach in 1995 (under fellow Fullerton Hall of Famer and then Head Coach Augie Garrido) and the other as head coach in 2004.
"I bleed Titan blue, no matter where I am," Horton said to applause. "I have always had my eye on this program."
President Fram Virjee also hailed the program, boasting that five Titans Baseball alumni recently competed in the 2019 MLB Playoffs. But he underscored the fact that many alumni also turned out to be leaders beyond the diamond.
"The value of a college degree doesn't depend on your batting average," said Virjee.
Current Titans Baseball coach Rick Vanderhook called Horton a mentor to him (and many others) and a Titan legend. "What George Horton accomplished was amazing," he said. "The number of guys who went to the College World Series under his watch is incredible."
Horton spent 11 seasons as the head coach for the Titans, compiling an overall record of 490-212-1, while leading Fullerton to the postseason in all 11 seasons. The Titans earned seven conference titles, qualifying for the College World Series on six separate occasions.
Horton led Fullerton to three 50-win seasons, including a 50-16 overall record in 2003, which garnered him Baseball America Coach of the Year Honors. He was also named the 2004 American Baseball Coaches Association's Coach of the Year and Collegiate Baseball Newspaper's Coach of the Year. He was also named the Big West Coach of the Year five times during his career.
During his tenure as head coach, the Titans won 127 of 160 regular season three-game series for a winning percentage of just under .800. 
He's also just one of 17 men to appear in Omaha as a player and a head coach. Horton made his mark as a player under Garrido, as a member of Fullerton's first team to qualify for the College World Series in 1975. He claims that as a player, CSUF didn't recruit him. "I forced myself on them," he laughed.
Horton described his love for his team, Coach Vanderhook, his own mentors (including Garrido), and the hardworking staff.
"I've coached for 42 years," he said. "During that time, I met three presidents, coached in four countries and met some of the most amazing people…and it was all because of baseball."
He spoke of the highlights of his career as well as the harder times. While vying for its fourth national championship in 2004, Horton's Titans squared off against the Texas Longhorns, coached by Garrido. 
"In 2004, our team was on the way to be the worst team we had but we spun it around," he said. "I remember in regionals we were playing against Augie and he said, 'We'll see you in Omaha.' I responded, 'Yeah, on TV.' Oh, my players didn't like that. That really lit 'em up…and we did go on to meet Augie in Omaha." 
Fullerton claimed the title, sweeping Texas in two games (6-4, 3-2).
"I think what makes Cal State Fullerton so special is that we had each other," he said. "Our team never had enough money or all the support that other colleges did, but when we'd hear 'Play ball,' it didn't matter that we didn't have an electronic scoreboard or a fight song or any of that. We did it the old-fashioned way. We did what it would take to succeed."
To support the Titans Baseball program, visit Cal State Fullerton's giving page.