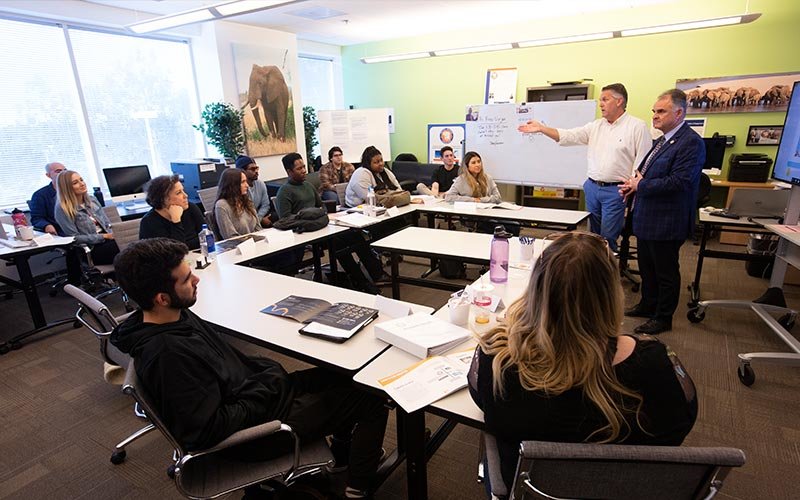 While tens of thousands of students arrived at Cal State Fullerton this week for the start of the spring semester, about 20 miles away, several thousand more students marched up the red carpet to begin their classes at the university's Irvine Center.
In addition to a red carpet greeting, free snacks and treats, and staff members ready to orient them to the center, they had a special visitor — President Fram Virjee — who spent several hours meeting with student groups, faculty and staff of the several unique programs that operate out of the Irvine Center. 
In the Guaranteed Accounting Program, or GAP4+1, students begin their academic journey at Irvine Valley College, transfer to the CSUF Irvine Center to complete a bachelor's degree and then pursue a master's degree on the main campus.
Virjee also visited the Small Business Development Center, Center for Entrepreneurship, PRactical ADvantage (a student-run public relations agency), and the exercise physiology lab. Several students described how the centers help them with their work and studies.
Michael Ruiz is working in the Center for Entrepreneurship incubator in Irvine. His new music education business, Tomorrow's Tone, assists young children with autism, ADHD and other special needs by combining applied behavioral analysis with classical music theory.
"We don't think of autism as a disability, but as a gift," he said. "These students simply learn differently. And many respond to music because it requires repetitive actions. Often, our students learn to sight-read quickly and progress rapidly. Parents have told us that they see far fewer behavioral issues with their children once they start playing a musical instrument."
Ruiz and his team are also studying another area where their approach might be helpful — Alzheimer's patients and those exhibiting signs of dementia.
Another student, Leo Gomez, successfully used the CSUF Incubator to develop a product called Runball. It all began with his energetic German Shepherd puppy who loved to run. The product is basically a tether with a ball on the end. The dog owner can throw the ball and then swing the tether so the dog chases it. Since the owner is holding the tether, he or she can pull the dog toward them so they don't have to "play keep away" with young dogs who would rather run away than return the ball.
"I need one of those right now," laughed Virjee, the owner of a Great Dane and a Saint Bernard.
Bryan Ruef, explained how the incubator helped him market his product — 10-8 Systems, a cloud-based dispatch system built for managing emergencies. Recently, the senior in computer science worked with Florida Search and Rescue, and Crowd Emergency Disaster Response Digital Corps and the Federal Emergency Management Agency in the Bahamas, using 10-8 Systems in their search and rescue operation during Hurricane Dorian. More than 650 people affected by Dorian were rescued or saved with the help of this software.
Since the company's inception about a year ago, 10-8 Systems has handled more than 27,000 incidents in 1,200 cities in 48 states … and it continues to grow.
As Virjee continued to meet with students throughout the day, he noted that students were in "for so much excitement."
"There are so many real-life experiences you can receive by taking advantage of these opportunities in addition to your coursework," he said.