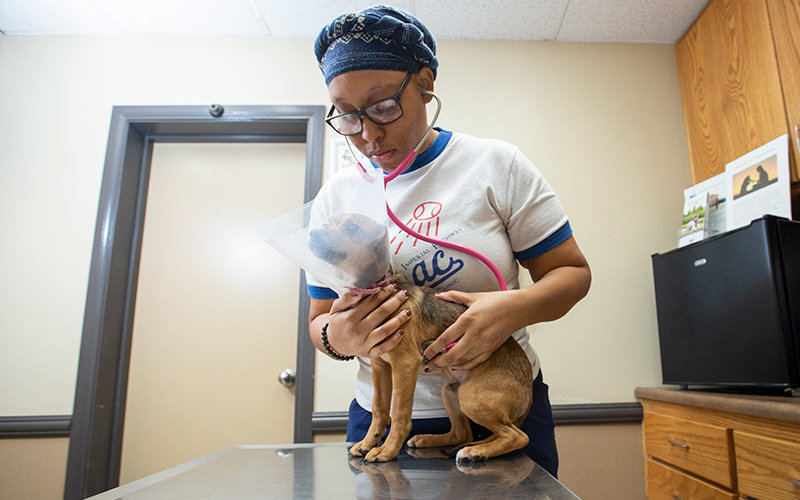 Three years ago, alumna Taylor Thornton '19 (B.S. biological science) delivered a powerful performance of her original poem "Black Girl Scientist" at Cal State Fullerton's annual Black History Month reception.
Today she is continuing her educational journey as a biology graduate student at CSUF, while working full time at an animal clinic in Yorba Linda.
"My goal is to become a wildlife veterinarian and aid exotic animals in reserves, and to help repair the damage that humans have done to the planet," she said. "I want to help people understand how their actions impact the diversity of the plants and animals around the globe."
But even after achieving her bachelor's degree in 2019, a significant step toward her dream of becoming a veterinarian, she still grapples with doubts and insecurities.
"I think Imposter Syndrome left me feeling like achieving my bachelor's degree wasn't as grand of an accomplishment as I initially thought," confessed Thornton. But CSUF's Pan-Afrikan Student Recognition Ceremony and her support system helped her understand that her degree "was earned by my own hands" and that "that chapter of my life should be celebrated."
While her goal is to pursue a Doctor of Veterinary Medicine degree, Thornton also is passionate about increasing black representation in STEM fields. She plans to use her master's thesis to study how general education courses engage nonmajor and underrepresented students in the biological sciences.
When she's not studying, Thornton works as a doctor's assistant at a local veterinary clinic. From simple puppy exams to X-ray screenings for bone cancer, Thornton is gaining hands-on training in a wide range of cases.
"I'm learning the ropes on how to approach each case presented to us," she said. "If a patient comes in with certain symptoms, I learn what to look for, what questions to ask, what diagnostics to run and how to treat the ailments."
Thornton acknowledges both the novelty and challenges that come with the label "Black Girl Scientist."
"I was surprised to be recognized in random occasions on campus," she said. "One of my best friends would laugh whenever an individual would walk up to me and say, 'Hey, are you Black Girl Scientist?' Having my face recognized by complete strangers is still very strange, but flattering in some respects as well."
At times, Thornton shared, she had feelings of "tokening" or "being put on a pedestal" for being a woman of color in STEM. But she's hopeful that other students, "especially black Titans," will be able to relate to her personal struggles and see that "they're not alone."