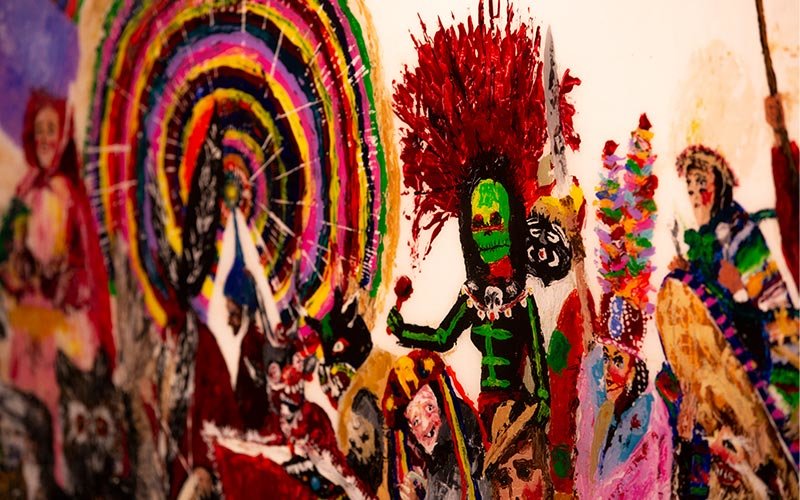 "Art is unifying and incredible," declares Cal State Fullerton graduate student Shirley Villalobos, curator for "Colores de la Vida" ("Colors of Life"), the first-ever Titan art exhibition at the Consulate of Mexico in Santa Ana.
When Villalobos was tapped to curate the exhibit by Jennifer Frias '14 (M.F.A., art-exhibition design), director of CSUF's Nicholas and Lee Begovich Gallery, she saw it as an opportunity for the university, the Hispanic community and herself.
"I knew this would be an excellent opportunity to display exclusive and tasteful artworks that CSUF has to offer the arts community," she says. "We had some amazing pieces to place in a public space at the consulate, which encompasses similar CSUF values: tradition, diversity, authenticity and learning."
The art history student chose a variety of subject matters and art styles ranging from abstract to depictions of everyday life to aspects of Latino cultural heritage, reflecting the ideals and talent of more than a dozen student and alumni artists. 
Villalobos and Frias both emphasize the importance of "Colores de la Vida" in connecting CSUF, the arts and the Hispanic community.
"The exhibition plays an important part in making visible the artistic contributions CSUF has made to our Hispanic/Latinx community, particularly our students and alumni," says Frias. "In turn, it connects the community outside of CSUF to the narratives and complexities that our student artists are exploring with their art practice."
Villalobos adds — on a more personal level — "In Hispanic households, very much like the one I come from, art and the humanities are not seen as a means of reasonable success in the 'real world.' So the fact that the art of CSUF students is in a space where people from Latin communities can see various forms of expression is a huge deal. My goal was to instill the idea that art is a part of everyday life, and hopefully to create newfound appreciation for people in the arts."
At the Jan. 30 reception and unveiling of "Colores de la Vida," Mexican Consulate Mario Cuevas-Zamora spoke amicably about being a part of the community and opening their space to the artists. 
An untitled acrylic and oil painting by Ordando Prieto.
President Fram Virjee underscored the significance of the strong relationship between the university and the Hispanic community. "We are the Cal State that graduates more Hispanics than any other institution in California. It is the partnership with our community that makes us a transformative institution … that changes lives and builds a better future for all of us." 
Villalobos later reflected on the work it took to bring "Colores de la Vida" to fruition. "This exhibition gave me a taste of what museum and large-scale gallery curators go through on a daily basis. Curating art is so meticulous! Not only was I in charge of artworks, but I handled communication with the artists and the consulate, and making sure everyone was happy while balancing other unrelated projects simultaneously. Time management was definitely a skill that I learned." 
She proudly encourages people to see the exhibit, excited by the prospect that it could be viewed by more than 250 people who come to the consulate office each day. 
"Colores de la Vida" will remain on display at the Mexican Consulate, 2100 E. 4th Street, Santa Ana, until March 20.