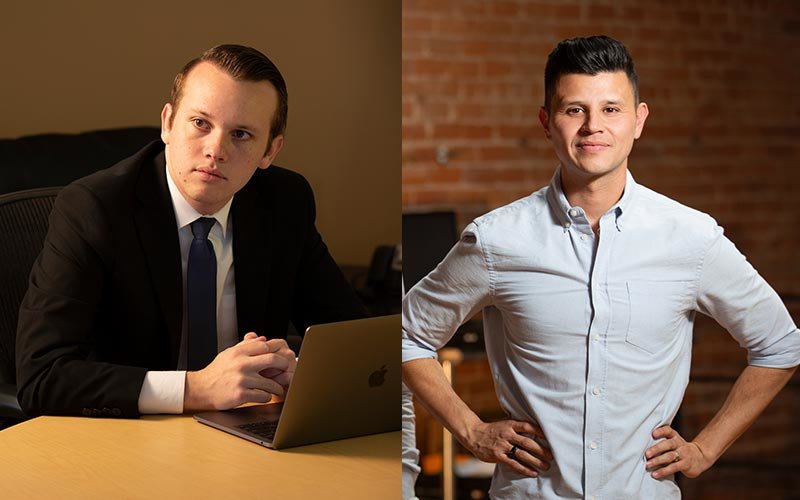 Entrepreneurial-minded individuals across Orange County will hear firsthand tales of the startup world at the inaugural "Orange County Celebrates Entrepreneurs" event Feb. 29, on the Cal State Fullerton campus.
A collaboration between CSUF's Center for Entrepreneurship, UCI and Concordia University Irvine, the event will take place 1-5 p.m. in the Titan Student Union.
"Our mission is simple — to celebrate individuals fostering the entrepreneurial spirit," explains John B. Jackson, center director and co-leader of the event.
Among the Titans scheduled to present are computer science major Bryan Ruef and alumnus Victor Macias.
Ruef co-founded 10-8 Systems, a cloud-based dispatch system built for managing emergencies. After winning CSUF's Startup Competition, he worked with the CSUF Startup Incubator to bring his innovation to market. "To be able to bring this to the people who are 'boots on the ground' and saving lives in these awful situations ー it's an amazing thing," Ruef shares.
Macias, co-founder of the keto-friendly cookie enterprise Nui Foods, credits CSUF's entrepreneurship program for giving him the tools and encouragement needed for success. "Studying entrepreneurship at CSUF helped me get ready for new venture creation and gave me confidence," he says.
Keynote speaker Paul Wasserman '87 (B.A. economics), co-founder of Ebates.com, will be joined by a variety of presenters, including Titans:
Mike Daniel '99 (B.A. business administration-marketing), regional director of the Orange County Inland Empire Small Business Development Center network
Don DiCostanzo '79 (B.A. business administration-marketing), co-founder and CEO of Pedego Electric Bikes
Ed Hart, director of CSUF's Center for Family Business
Guy Knuf '87 (B.A. business administration-accounting), partner at Moss Adams
Victor Macias '09 (B.A. business administration-entrepreneurship), co-founder of Nui Foods
Mark Manguera '02 (B.A. business administration-management), founder of Kogi BBQ and Snow Monkey
Russel W. Mangum III '88 (B.A. economics), senior vice president at Nathan
Bryan Ruef, co-founder of 10-8 Systems
Jackson hopes the event will help people "gain a deep understanding of the entrepreneurial journey and recognize Orange County as a leader in innovation and entrepreneurship."
The event is free and open to the public, but seating is limited. Learn more and register at ocentrepreneurship.com.