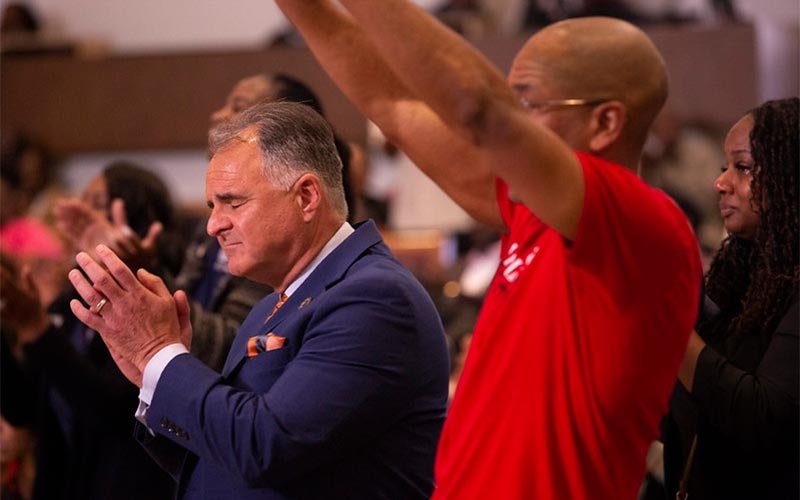 "Today is Super Sunday, when the 23 campuses of the California State University send campus presidents, administrators and faculty to more than 100 predominantly African American churches throughout the state," said Cal State Fullerton President Fram Virjee. "The goal is to encourage African Americans to apply to and graduate from college."
Addressing the congregants of Second Baptist Church in Santa Ana, Virjee encouraged not only young people but congregants of all ages to consider pursuing an education at Cal State Fullerton.
Virjee outlined the ways that the university is committed to diversity and inclusion on campus. "We are prepared to partner with you every step of the way to make sure you are prepared and can afford college. You can succeed at Cal State Fullerton whether you're enrolling for the first time, you're the first in your family to attend college or you're returning after some time away."
He pointed to such programs as "Fall in Love With Fullerton Day," an event designed to welcome all prospective African American students and their families; and the Male Success Initiative, a program that supports young men of color. Not only does the program help students graduate, but it helps them form a brotherhood of peers and colleagues.
The university has a history of partnerships with alumni such as Bobby McDonald, president of the Black Chamber of Commerce of Orange County. And on campus, there are African American studies programs, clubs, centers and more.
"For those who think they can't afford college, we can help you," Virjee said. "We are an engine of opportunity created for you no matter your economic situation." In fact, he pointed out that 80% of CSU undergraduates receive non-loan financial aid, and two-thirds of all CSU students have their tuition completely covered.
"Why is that?" he asked. "It's because CSUs and Cal State Fullerton are your campuses. They are owned and financed by your parents, grandparents, aunts and uncles. They are run and operated for you!
"You are our future. You do not burden us with work; you lift us up with your potential. You do not lack the means to succeed. You have the tools and tenacity, the character and courage, the intelligence and the persistence.
"As we celebrate Black History Month, who do you think of and celebrate and admire? Those who came before us and who ushered in change. African Americans who made a difference and are making a difference. They had a thirst for knowledge, searching for the tools to make life better for them, for their families and for their communities.
"In fact, we recently renamed one of our campus buildings after a former university president named Milton Gordon," he continued. "When Dr. Gordon went to college in Louisiana in the 1940s, he was forced to sit in the back of the bus. He traveled in segregated train cars because of the color of his skin. But he fought back — through the power of education.
"That led him to become one of the first African American presidents of a major university west of the Mississippi," he continued. "He discovered his potential. He made his dream a reality. And make no mistake, with the power of a college education, he changed the world.
"I encourage you to find your path to college and know that with the wisdom you accrue, you, too, will change the world."