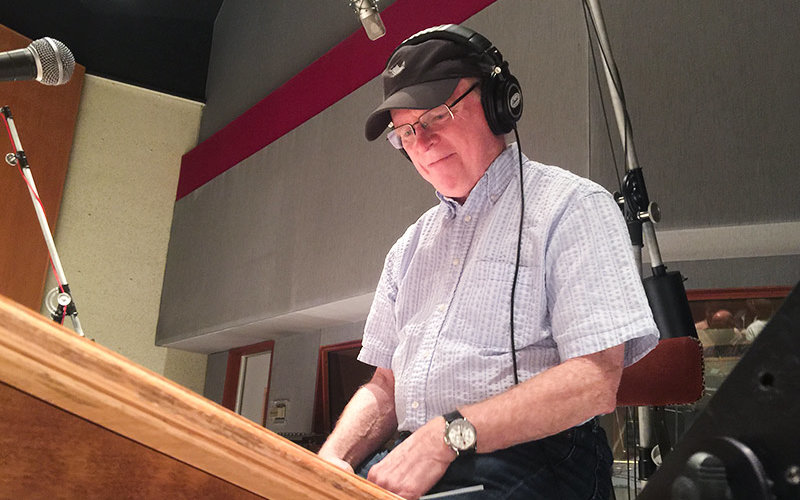 Update: Cal State Fullerton's Clayes Collage Concert has been canceled.
When Bruce Healey was in high school, he received a call to substitute for the bass drummer/percussionist in the Disneyland Band.
Unfortunately, he was in class at the time.
While he may have missed that opportunity, Healey would get a second shot: Not only did he become a full-time member of the Disneyland Band, but he continued on to a more than 30-year music career as arranger/copyist, music coordinator and finally principal music director/producer for Walt Disney Parks and Resorts Creative Entertainment at Disneyland.
For his long-standing contributions to the music profession, the Cal State Fullerton alumnus will be honored with a "Titans of Music" Award Saturday, March 14, at the School of Music's 13th annual Clayes Collage Concert.
A 'Fantasmic' Career
During his time with Disney, Healey composed, arranged, orchestrated, conducted and produced music for hundreds of shows, parades, television specials and special events.
Some of his notable projects include "Lion King Celebration Parade," "It's a Small World Holiday," "Celebrate America – A Fourth of July Concert in the Sky," "Five and Dime," "Red Car Newsboys," "Pixarmonic Orchestra," "A Christmas Fantasy Parade," "Pixie Hollow Lights and Fountains Show," and "Disney's Fantillusion Parade" at Tokyo Disneyland and Disneyland Paris. His work as soundtrack producer for "Aladdin – A Musical Spectacular" and "Haunted Mansion Holiday" both garnered Thea Awards.
But his favorite project? Writing and producing the music for Disney's iconic "Fantasmic" nighttime show. "'Fantasmic' still tops the list," he says. "I'm grateful for the chance to do some of my best work on that show."
Just as Disney films evolved over the years in their use of story, characters and music, the music of Disney Parks has followed suit, Healey explains. "I always tried to make music that would have a lasting effect, but at the same time be fresh."
In a 2014 interview with DisneyExaminer, Healey shared what motivates his work. "It is more important to me that people around know and enjoy the music I've created and produced. If I'm not well known, but my music is well known because it's part of the Disney legacy in some way, then that is great with me."
Outside of Disney, Healey has enjoyed writing projects for Cincinnati Pops/Telarc Records as well as composing arrangements for Hal Leonard Symphony Pops Series. He is especially proud of his work on "Love Is All You Need – A Tribute to The Beatles," an 18-minute orchestral arrangement of songs by The Beatles.
Now retired from Disney, Healey remains active in the music industry through his own company Allsun Music Co.
Titans of Music
Though he studied piano and percussion from an early age, Healey didn't consider music as a career choice until he came to Cal State Fullerton. "I was inspired by my many teachers and friends and the small successes I had along the way," he says, noting that his professional path was clear by the time he graduated with his Bachelor of Music degree in 1972.
Teachers such as Rita Fusik, Desmond Kincaid, Burton Karson, Donal Michalsky, Andrew Charlton, Frank McCarty, Rodger Vaughn, Benton Minor, Daniel Lewis, Todd Miller and others were instrumental to his education. Additionally, opportunities to perform in the Wind Ensemble, Orchestra, Percussion Ensemble and the university's first unofficial Jazz Ensemble helped Healey hone his skills.
"While CSUF had no commercial music curriculum at the time, I was acquiring many tools through these experiences," he recalls. "I wrote my first jazz arrangements for that Jazz Ensemble."
Healey fondly remembers receiving the university's Composition Department Award in 1972 before graduating and continuing his studies in composition and orchestration at the University of Southern California.
He offers four pieces of advice for aspiring musicians: "Follow your passion for music. Drink up all the knowledge you can. Get involved with as much as you can. Learn to collaborate with other talented people because all will benefit from that."