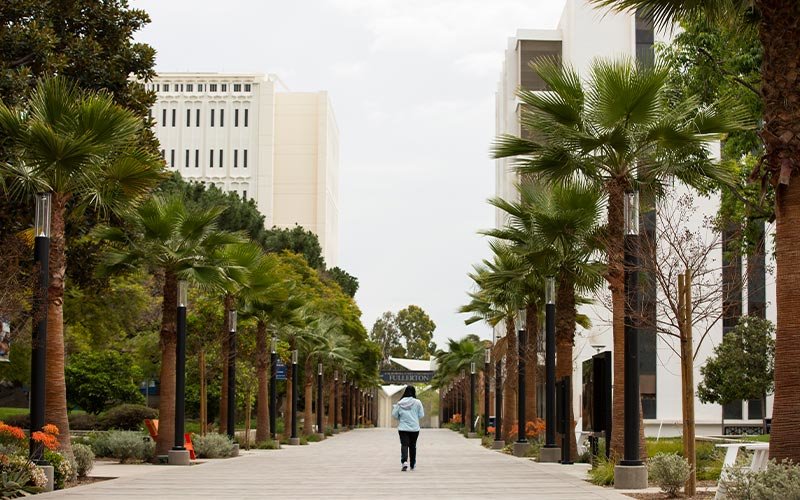 Rhythm and blues softly play along the promenade. Students hunker down, studying in oversized outdoor chairs. A young man is running around the track near the intramural fields.
President Fram Virjee is on his daily stroll and chatting with everyone he comes across.
Another day at Cal State Fullerton?
A closer look Wednesday afternoon revealed that this wasn't a typical school day.
Students, faculty and staff this week became witnesses to history as they packed their laptops, books and offices to enter a world of virtual instruction, limited on-campus resources and the postponement of milestone events like commencement.
For Cal State Fullerton students, the worldwide coronavirus (COVID-19) pandemic may be a defining moment in their lives.
Saleem Haider
"I was talking with my dad earlier, and he remembers being alive during the Great Depression," accounting major Saleem Haider said as he headed to the second floor of the Pollak Library Wednesday for some technical help before leaving campus. "He said you got to remember how this feels, what the moment was like, and how people are acting."
It feels odd. Campus life as we know it, is in transition to the "new normal."
This week a typically buzzing promenade seemed deserted, students in campus housing packed their belongings and headed home, faculty lined the hallway of Pollak Library checking out laptops, and at the Gastronome, the staff distributed grab-and-go meals to students. 
Cal State Fullerton has suspended all non-essential campus functions and switched to mandatory virtual instruction through May 22. The university also postponed commencement, like many universities nationwide.
Evangely Balcica
Mechanical engineering student Evangely Balcica said that she is disappointed that graduation is postponed, but understands that this is an unprecedented time that no one predicted.
"It feels really like one of those things you read in a history book," she said walking from the Parking and Transportation Services office with a refund for her semester parking pass. "It's like there will be a whole chapter on it, and what's weird is that I'm part of it."
Matt Nguyen
Matt Nguyen, a grad student studying viruses, hopes the outbreak of COVID-19 leads to discoveries to combat contagions and save lives.
"I'm just glad people are working on a virus or just studying up about it," Nguyen said while wrapping up his thesis in his lab at Dan Black Hall. "The more we learn about this virus, the more we know how to go about treating future cases, and that's a good thing."  
Michael Mahi, senior director of digital media, is looking for stories from our campus community about being a witness to history. Contact him at mimahi@fullerton.edu.