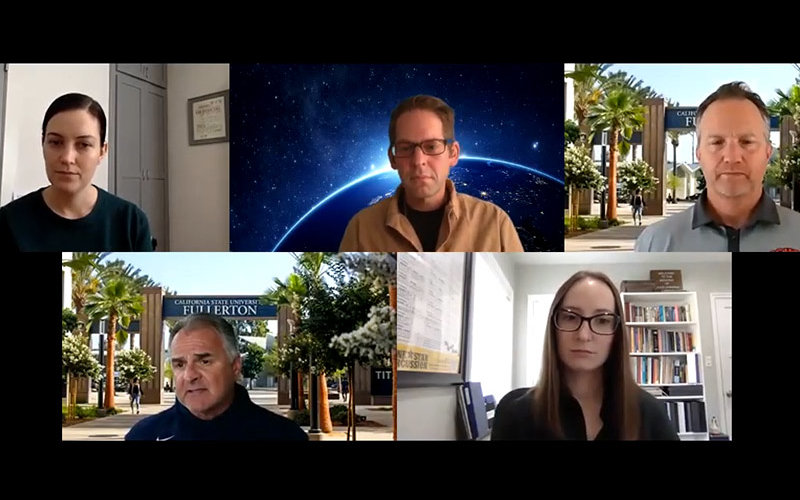 Eight days before Cal State Fullerton's 13th annual Student Conference on Literature, Culture and Languages was scheduled to take place, professor James Hussar had a decision to make — cancel the conference amid COVID-19 concerns or find a way to go completely digital.
With 40 undergraduate and graduate students scheduled to present research, the chair of the Department of Modern Languages and Literatures chose the latter.
What resulted was one of the department's most successful conferences, introduced via Zoom video conference by President Fram Virjee: "Showing up for the symposium and having the symposium go forward is so important because it demonstrates the grit, the determination, the persistence that is Cal State Fullerton."
"We had more attendees at this conference than we've ever had at the traditional face-to-face events," shared Hussar, who saw up to 70 participants in a session typically attended by 30 to 40 people.
People who weren't able to attend the March 20 conference — which included research spanning such subjects as Chinese, Japanese, Spanish, TESOL, Vietnamese and the World Languages K-12 Credential — will be able to watch recordings of the sessions online.
Hussar said he would strongly consider the online model for future conferences. "Not only do we extend our reach to attendees around the world, but we also stand to recruit high profile keynote speakers by allowing them to join us from their homes rather than traveling to Fullerton."
Digital Conference Reaches New Audiences
Kimberly Blanks '19 (B.A. French), who recently was accepted to CSUF's Master of Science in education program, presented at both last year's and this year's conference. She was surprised to receive more questions in the digital format.
"I think the online format helped to reduce tensions and anxiety and allowed people to interact more," said Blanks, whose long-term goal is to pursue research in language acquisition, pedagogy, methods and best practices.
Meanwhile, Spanish major Carolina Snader "was glad that the organizers had the perseverance not to cancel the event. It is important that we don't let difficulties get in the way of accomplishing our goals."
At traditional face-to-face conferences, Snader, who is deaf/blind, typically uses a transmitting microphone and sometimes has difficulty hearing all the participants. "For me, the online conference was great because I was able to hear everyone clearly."
Researchers United in Uncertain Times
Celia Martínez-Sáez, assistant professor of modern languages and literatures, organized a panel called "Theater Workshop in Spanish: Building Community and Safe Spaces Through Games and Storytelling."
The panel reflected on how to build community in times of crisis and social distancing, and participants from Spain, Peru and the U.S. shared some of the emotional places from which they were coming. For example:
"Vengo de un lugar de frustración." ("I come from a place of frustration.")
"Vengo de disabilidad." ("I come from disability.")
"Vengo del reencuentro con mi creatividad en estos tiempos de incertidumbre." ("I come from taking up my creativity again in these times of uncertainty.")
"It was incredibly moving and exciting to create such a vulnerable, cross-cultural space and collectively redefine different ways in which we can connect, even now," shared Martínez-Sáez. "We couldn't see the participant's faces, and some of them were strangers for some of us, but we could feel their pain, uncertainty, concerns and hopes."
There are no borders in human knowledge.

-Erick Murillo, Spanish major
Erick Murillo, a Spanish major, admits he was skeptical about presenting online. "Despite the setbacks, we were able to come together as a language community," he said. "Most of us did it from the comfort of our homes, where we felt comfortable in such a scary moment. It was great to observe how well each student was prepared despite the circumstances."
Murillo will continue his graduate studies at CSUF this fall. "My goal is to keep spreading the passion I have for languages — there are no borders in human knowledge."