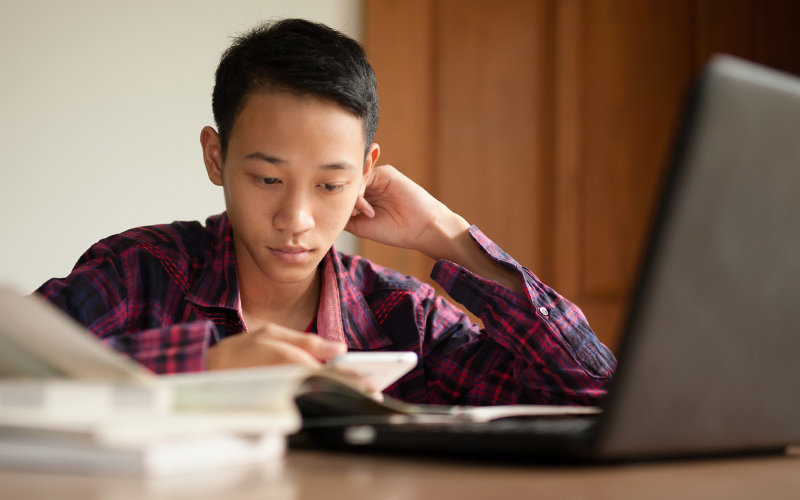 For some students, online learning can be intimidating and socially isolating.
To tackle the social and emotional side of virtual learning  — making sure that students feel connected to instructors and peers, and are engaged in their studies — educators turn to Cal State Fullerton's Loretta Donovan and Tim Green, experts in distance education and educational technology.
"We need to make sure we are attending to the social and emotional needs of our students. Learning is largely a social endeavor. Moving to an online environment can feel isolating  — unless it is implemented well," said Green, professor of elementary and bilingual education.
"Many students and community members have the misconception that distance education equates to learning in isolation or it is an independent study approach to teaching and learning. Our program is the complete opposite of this." 
For the last decade, Green and Donovan have directed the university's fully online graduate program in educational technology in the College of Education to prepare educators to integrate effective technology in the classroom. They also share with teachers how to emotionally support their own students.
The 16-month program started with 30 students in fall 2010 and currently admits about 100 students each fall semester and 25 students in the spring. Donovan, professor of elementary and bilingual education, guides them through their first class of "Distance Education Issues and Trends," with students also taking courses in web design for instruction, problem-solving and critical thinking using technology, development of multimedia, instructional design and technology professional development. 
"Our master's candidates engage with each other using a range of tools and approaches. They also engage with a very present instructor multiple times during a week," Green said. "In order for this sudden shift to virtual teaching and learning to be successful, it is vital that students feel supported and connected to the content, but more importantly, to other individuals." 
Green and Donovan's research centers on best practices for technology integration, with an emphasis in online teaching and learning. In a published study, which won the journal's best paper award, they focused on diverse students and their connectedness in online programs. They gained valuable insights about practices that support online students and what works to help them feel connected to the program, their peers and their instructors. 
"We all need to remember that distance education teaching and learning is new for most  — teachers, students and parents. We should not try and overwhelm our students," Donovan said. "Let's make sure that they feel connected. If not, then it is going to be difficult to get them to engage in learning."