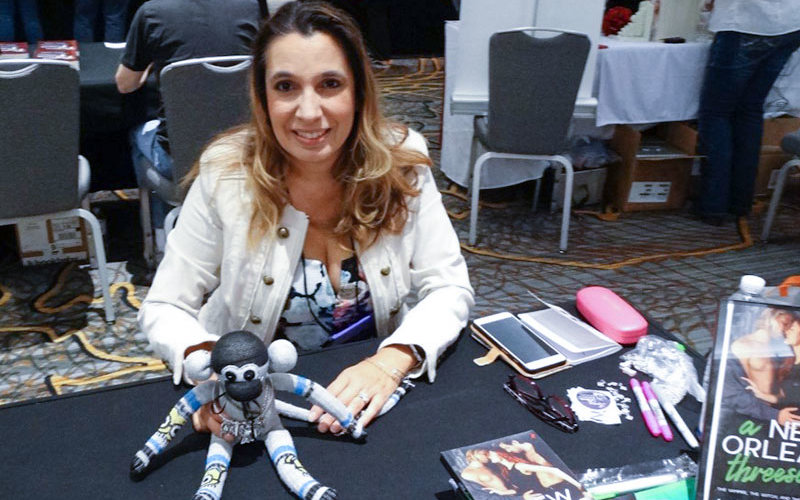 By day, Marie Loggia-Kee '97 (M.A. communications-journalism) is a lecturer in communications at Cal State Fullerton, but by night she's Louisa Bacio, a popular romance author.  
Specializing in paranormal romance writing, Loggia-Kee has sold more than 50 novels, novellas and short stories to over 16 publishers since 2010. 
With her experience at the Daily Titan, Loggia-Kee has a knack for taking her journalistic observation skills and using them to create whole new worlds in her writing. 
What inspired you to start writing romance?
One definite influence was my grandmother. She read Harlequin romances, and I'd pore over them when I visited her in Texas. I've always been a reader; I enjoy the escape from reality that a good story offers and hope to bring some of that to my readers. I chose the pen name, Louisa Bacio, because I didn't want my kids to tell their tennis coach what I write. 
How did your Titan experience prepare you for success as an author?
Thanks to my journalism background, I learned how to work on deadline and developed an eye for detail. I see teaching as a way to give back to the Titan community. A few students have approached me for advice, and the first thing I tell them is to finish what they're writing. I leave the line of communication open for them to contact me in the future, when the class ends, if they have questions.
How has the romance writing business changed since you began? Do you have a comment about the recent controversy about racism in the industry?
Most of my work is through a publisher, but self-publishing has grown tremendously and there are authors who do quite well financially because of it. It helps expand and empower a wider diversity of authors. The recent Romance Writers of America controversy has been disheartening, depressing and distracting from writing. I don't want my silence to be interpreted as condoning actions, so I've found myself being a little more vocal in my author world. I'm very much for equity, diversity and inclusion, which includes listening to others who may have different experiences that we may not see or understand, and learning from them.
What new projects are you working on?
I have contracts for two short stories for a magazine that are due in April, and a few sequels to finish for some of my paranormal romance series. I'm currently working on "Sexy Superheros." It's very diverse, an anthology of short stories with various authors. It will probably come out with "Wonder Woman 1984" this summer as a cross-promotion where all the authors will promote each other.
What advice do you have for students who want to pursue careers in writing?
Write now, edit later. Find others who share your passion and can support you. When I'm working on a deadline, it's nice to have a friend check in to see how it's going. It helps when you have someone who writes in the same style as you and you trust them.