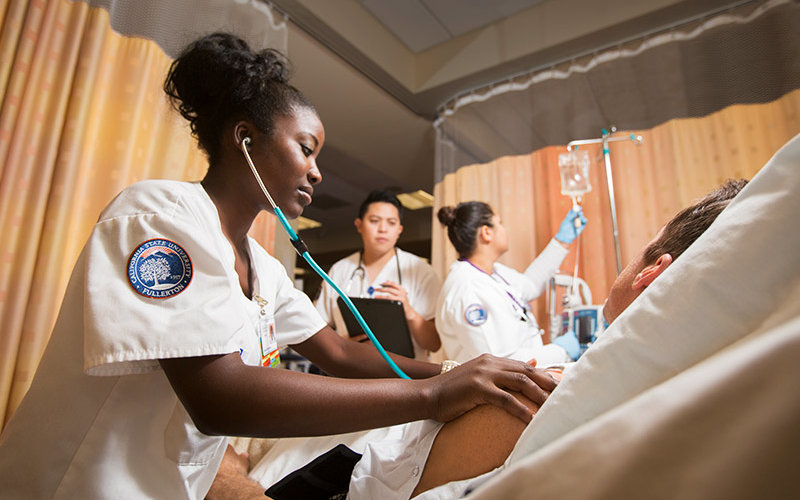 Cal State Fullerton's nurse anesthesia and midwifery programs have been recognized as top health care programs in the nation in U.S. News & World Report's 2020 Best Graduate Schools list.
The highly competitive nurse anesthesia doctoral program, offered in partnership with the Kaiser Permanente School of Anesthesia, ranks No. 4 among 110 schools. CSUF shares the No. 4 position with Rush University in Chicago, Uniformed Services University of the Health Sciences in Maryland and the University of Pittsburgh.
The master's degree in nursing-women's health care, with an emphasis in midwifery, ranks No. 21 in the Nursing-Midwifery category, tied with Baylor, Case Western Reserve, Ohio State and Georgetown universities as well as the University of Kansas. Cal State Fullerton is one of only two universities in the state offering a midwifery program.
Both nursing programs boast near 100% first-time pass rates for the National Board of Certification and Recertification for Nurse Anesthetists and American Midwifery Certification Board exams, as well as near 100% job placement for all graduates.
Penny Weismuller, director of the School of Nursing, said the rankings are reflective of superior faculty who are well known in each discipline, serve as leaders in national organizations and frequently garner prestigious grants.
"Because all of the faculty in our anesthesia and nurse-midwifery programs are also practicing clinicians, our students receive up-to-date information and training from faculty who are not out of touch with new changes in each field," Weismuller explained. "We have a rich flow of knowledge and resources into each program.
"The rankings show that Cal State Fullerton has one of the top schools of nursing overall and particularly for these advanced practice fields of women's health and nurse anesthesia."
Visit the School of Nursing website to learn more about the programs.
Contact: Lynn Juliano, ljuliano@fullerton.edu