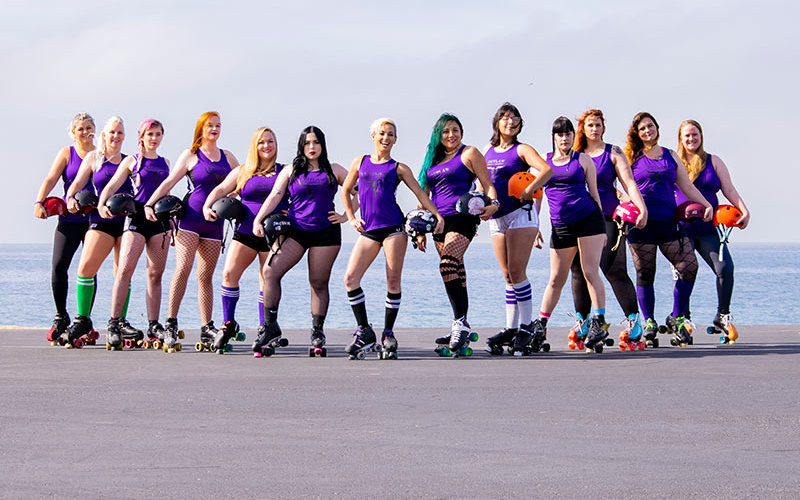 For two months, Cal State Fullerton senior Kate Resnick immersed herself in the world of "no-rules" roller derby — attending nearly all practices, games (called "bouts") and team meetings for the Outlaw Renegade Rollergirls — as research for her American studies major.
Resnick chose to study the Outlaws, Orange County's only renegade roller derby team, to see how roller derby can act as a catalyst for skaters to fully express themselves or develop their identities.
Unlike traditional roller derby, which is governed by the Women's Flat Track Derby Association, renegade roller derby does not use penalties or referees to stop game play and players can exercise moves considered illegal by WFTDA rules.
"I've always admired the toughness of the women who play roller derby, and was interested to see if, and in what ways, they felt empowered by the aggressive nature of the sport and its resistance to traditional femininity," explains Resnick, who also is minoring in queer studies. 
The research project was part of her "American Culture Through Ethnography" class, which teaches students to conduct independent research on contemporary American culture using such methods as interviews and participant observation.
Four themes emerged from Resnick's research: community/kinship, motivation/personal sacrifice, trauma/fear and self-transformation/expression.
"Derby is a physically aggressive sport that involves fear, whether it is fear of getting injured or letting down the team," she explains. "When skaters are able to push through these fears, it empowers them, boosts their confidence and also serves as a motivator to keep playing.
"Nearly every skater I spoke to mentioned the relationships they have formed with other skaters as a major factor that keeps them on the team," says Resnick, who interviewed six of the team's 13 members.
Emilia Sintora, one of the team members and a Cal State Fullerton psychology major, joined roller derby with the goal of becoming a more skilled and aggressive skater and quickly found the added benefit of camaraderie with like-minded individuals.
"The benefit of being an Outlaw is not only being physically fit and agile, but also having a group of supportive friends," shares Sintora, whose derby name is "The Lone Roller."
"Kate's willingness to be a part of the team showed me that she was serious about producing quality research," says Sintora. "I trusted that she would write honestly about our team."
Resnick sees the modern resurgence of roller derby, previously popular in the United States during the mid-1900s, as indicative of desire for inclusivity in sports today.
"Unlike many other popular sports, roller derby is open and accepting to people of all sizes as well as gender identities," she explains. "There is no such thing as a 'roller derby body,' and the space is consistently open for trans women and gender non-conforming folk.
"I'm a strong believer that the inclusivity of derby can't be beaten."
The culmination of Resnick's work is a 20-page paper, which she plans to expand upon during the summer in hopes of submitting her work for publication.
"School has never been easy for me, but this project changed that because it gave me something to be passionate about and proud of," says Resnick, who now is exploring graduate school programs. "The expertise of the faculty in American studies and women and gender studies, and their continued encouragement, played a huge role in preparing me to further my education."
Contact: Lynn Juliano, ljuliano@fullerton.edu