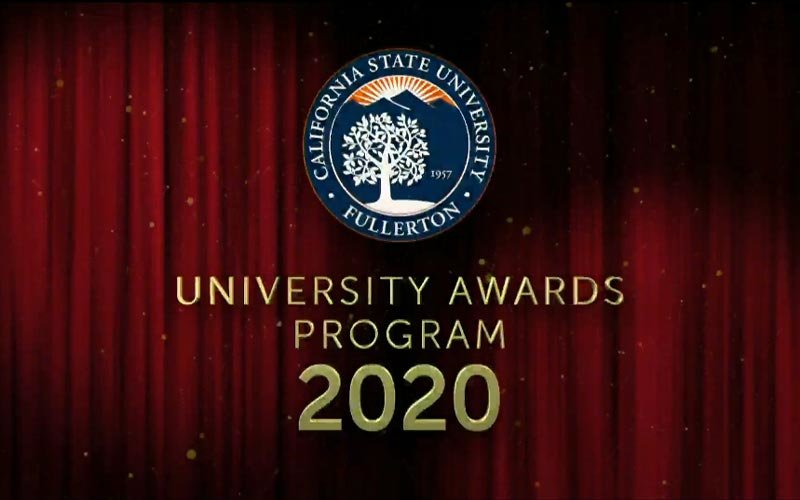 It was a University Awards event quite unlike any other in Cal State Fullerton's history. But President Fram Virjee and David Forgues, vice president for human resources, diversity and inclusion, gave it their all to make this year's virtual program memorable.
Because it took place online, that meant no breakfast featuring that standard favorite: bacon. But not to fear, one lucky Titan's name was drawn (Renee Gillespie of University Advancement) to receive a pound of bacon … delivered to her doorstep.
Bantering over Forgues' infamous orange suit (a fan favorite), it appeared that the president had now adopted this sartorial style. The event continued with a "Titans Got Talent" format and a great deal of good-natured teasing.
But all kidding aside, Virjee welcomed employees by sharing his deep pride in the students, faculty and staff. "I have never been more honored to serve this university," he said.
Provost Pam Oliver welcomed hundreds of faculty and staff members noting that this year has been especially challenging.
"Within the space of mere weeks, we transitioned to online learning, have learned probably more than we want to know about Zoom, and learned to combine work, family obligations, homeschooling children and stand at least six feet apart at the grocery store. But, as expected, everyone has risen to the challenge. We have adapted and continue to provide the best education possible for our students."
Oliver added that CSUF employees continue to strive and earn degrees. The names of those degree recipients from the past year can be found in the virtual program.
Sue Maddox: 40 Years of Service
As in the past, employees were honored for their years of service in five-year increments — from five to 40 years.
"This year we celebrate an employee who has reached 40 years of service," said Forgues. "It is my honor to congratulate Sue Maddox, administrative analyst/specialist in the Department of Psychology.
"Sue has been an invaluable employee since her high school days. Yes, you heard that right. Her mother worked in what was then known as the university's personnel office and she needed temporary workers to help with registration.
"Sue was in high school and, since it was summer break, took the job. After that, she went on to work temporarily in several other areas. Eventually, she ended up in the Psychology Department. She has served as an administrative analyst/specialist in the department since 1989. While there have been many changes at the university over the past 40 years, what Sue still enjoys the most is helping students and working with great colleagues."
For a listing of all the "years of service" honorees, see the awards program.
University Awards Recipients
Again this year, individuals and groups were honored with University Awards in the categories of Diversity, Inclusion and Equity and Teamwork and Collaboration.
All campus employees are eligible for these awards, and numerous nominations were received,  describing the many accomplishments of Titans. While all nominees were deserving of honor, only one team or individual could be recognized.
Teamwork and Collaboration Award: Titan Communications Team
The Teamwork and Collaboration Award recognizes staff, faculty, administrators or teams who demonstrate cooperation, collaboration and open communication. Nominees work together effectively on a project or significant effort that advances the university's strategic goals. 
The recipient of the 2020 Teamwork and Collaboration Award was the Titan Communications team, with members Eraj Shadaram, Nathan Jeffers and Jeffrey Whitten.
Shadaram, Jeffers and Whitten directed, produced, shot and edited the award-winning 2018 presidential rap video, which had more than 100,000 online views; the 2018 holiday video with a record-breaking 31,000 views on social media; the 2019 University Awards program featuring Kevin Costner, Gwen Stefani, Bruce Bowen and Justin Turner; the 2019 Convocation dance video; and the 2019 holiday video that broke its own records. Together, these masterfully edited videos brought hundreds of thousands of viewers to the university through the power of song, humor, dance and the creative infusion of our points of pride. 
All represent cross-divisional collaborations between the Office of the President, HRDI, the College of the Arts, Information Technology and University Advancement.
Diversity, Inclusion and Equity Award: Male Youth Empowerment Conference
The winner of this year's Diversity, Inclusion and Equity Award is the team responsible for Educational Partnerships and the Male Youth Empowerment Conference: Adriana Badillo, Genesis Perez, George Parker and Vincent Harris.
Recent Cal State Fullerton data shows that out of 40,000 students, only 306 are black men. Thus, Educational Partnerships created the Male Youth Empowerment Conference, which promotes an inclusive and equitable campus environment, particularly as it relates to ethnicity, race, class and gender.  
The Male Youth Empowerment Conference, or MYEC 4.0, is geared toward young men of color in grades nine through 11. MYEC creates an experience where attendees from across Southern California gain insight into college life and are encouraged to prepare for it while in high school. This year, nearly 300 participants engaged in a full day of programming demonstrating ways in which CSUF could be a destination at which they could thrive, succeed and reach their goals.  
Titan Excellence Awards
The Titan Excellence Award recognizes members of the Titan family who reach higher every day, dedicating themselves to advancing the mission of the university and the success of students. Any employee could be nominated by fellow employees and students. The nominations committee selected three to receive this award, and one was selected as Titan of the Year.
Alisha Brown, Director of Total Wellness, Human Resources, Diversity and Inclusion
As director of HRDI's Total Wellness program, Brown is a passionate leader who has taken her team and its message to new heights, building a healthier campus community through enthusiastic service and outreach. 
Brown's efforts have provided a multitude of programs and events for students, staff and faculty to learn more about their health and improve their well-being. Brown is at the center of these efforts, and her continuous hard work, creativity and inspiration have been key to their realization and success.
Shelly Arsneault, Professor, Politics Administration and Justice
Arsneault exemplifies the values of the Titan Excellence Award and demonstrates this through the creation and coordination of one of the university's signature programs — the City Management Fellowship Program.
Arsneault created CMFP in 2012 as a partnership between the Master of Public Administration program and the Orange County City Manager's Association. CMFP provides professional, academic and financial support to several MPA students each year who demonstrate a commitment to public service and desire a career in city management. Each student is paired with a city manager mentor, and the students attend a series of workshops conducted by them.
Titan of the Year: Laura Arce, Lecturer, Biological Science
Arce is a long-standing, part-time lecturer in biological science whose primary teaching assignments are upper-division courses in molecular and cancer biology, as well as a lower-division laboratory course for students accepted into the Research Careers Preparatory program that she directs. In addition to serving as the RCP program director, she conducts research on-campus and leads her own community outreach events. 
As the RCP director, she guides students as they engage in their first scientific research experience, preparing them for the next steps in their careers. Specifically, she helps students analyze the literature, hone presentation skills, navigate scientific conferences, network with other scientists, conduct experiments and form and test hypotheses. RCP partners with the campus' venerable Maximizing Access to Research Careers program to increase diversity in science, so Arce's work to mold young scientific researchers stretches beyond her department to include students from psychology, chemistry and mathematics. 
Arce '00 (B.S. biological science) is herself a former CSUF MARC scholar and a first-generation, Mexican American student, so she brings a personal awareness of the obstacles such students face. That passion resulted in the inception of the annual MARC-RCP Family Day, where MARC alumni, faculty and guest speakers interact with current scholars and their family members. She has directed this unique event for the past eight years, reaching out to students' family members in a way that makes a lasting impact. 
Another way in which Arce has extended the mission and principles of the campus has been through partnering with local schools to bring science to children. Her many pursuits help the university fulfill its mission of a quality, inclusive education that prepares students to become leaders in their fields.
"Congratulations to all the Titan Excellence Award winners," said Virjee. "You are all so very deserving of this award. However, we can only choose one Titan of the Year. And our 2020 Titan of the Year is Laura Arce!"
In Closing
Forgues closed the event by thanking all who had worked so hard to make the virtual program possible … and to all the employees of Cal State Fullerton.
"I know these last several weeks have been hard on all of us, but we have persevered and we will continue to work together as one Titan family," he said. "I encourage you all to continue to recognize each other either through brief chats, Zooms or phone calls. Continue to post the great things you and other Titan family members are doing on social media and use the hashtag 'It Takes a Titan.'
"When it is safe, I look forward to welcoming us all back to campus."
Contact: Valerie Orleans, vorleans@fullerton.edu