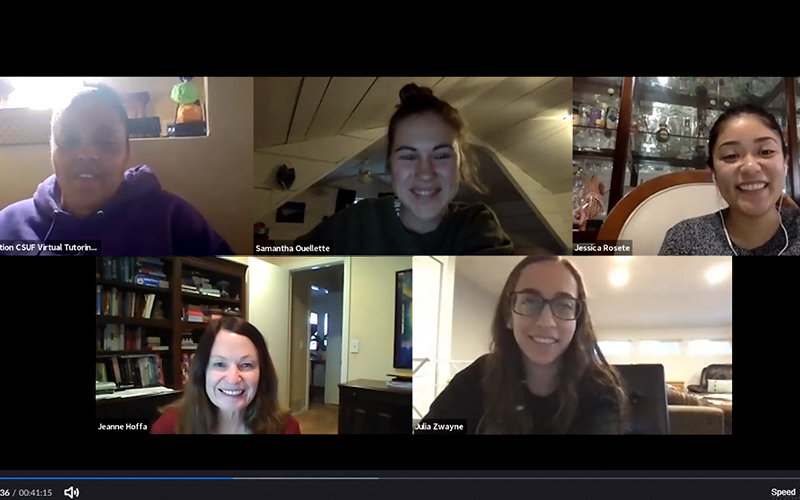 Update: The College of Education is offering free virtual tutoring during the 2020 fall semester for students in grades K-12. With CSUF teacher candidates serving as tutors, the program offers tutoring in math, science, language arts, social studies, as well as foreign languages such as high school Spanish and French. Sign up here for tutoring and visit the website for more information and resources.
 Cal State Fullerton's College of Education has launched a free virtual tutoring program to help K-12 students with their homework while distance learning at home during the coronavirus pandemic.
The virtual tutoring is staffed by education students who have all received a college degree and are in the process of completing their teaching credential program. Students are matched with credential candidates by subject — math, science and language arts — for tutoring, with no more than five students in each virtual session.
"The role of the tutors is to provide extra help to students in a small setting. The tutors adjust to the needs of the class as they encounter different learning abilities within a given topic," said alumna Amber Holloway, who is coordinating the program.
Holloway, an educator for 24 years, earned a master's degree in educational technology in 2012 at CSUF and teaches sixth grade math and science at Davis Middle School in Compton Unified School District.
Credential students volunteering to tutor benefit by gaining teaching practice and fulfilling student teaching hours, which ordinarily is completed in local school classrooms.
"This type of virtual teaching provides an aspect of teaching that many seasoned professionals are having a difficult time adjusting to, so it is humbling to see the tutors approach the sessions with so much eagerness and ambition," Holloway said. "It also gives additional private practice to children and allows them a small setting to ask questions, share thoughts, or to observe and learn."
Using her skills in educational technology, Holloway created a scheduling platform for parents and students to connect a child's needs with a tutor's area of expertise, and to make the registration process seamless.
"I've designed the platform to give parents the ability to register from any device, receive reminders and login information about sessions via text and email, and provide feedback, all in one click," she said.
Additionally, a website has been created for teachers and parents that focuses on resources for online teaching and learning — from virtual field trips, free art classes, yoga to STEM (science, technology, engineering and mathematics) education.
Visit the website for more information and resources.  To schedule virtual tutoring, visit here.
Contact: Debra Cano Ramos, dcanoramos@fullerton.edu