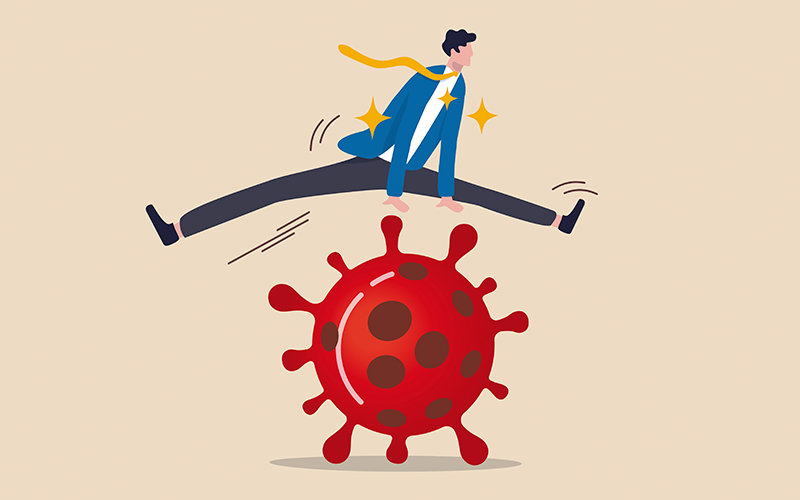 Everyone has been dealing with the changes caused by the novel coronavirus, and the Center for Entrepreneurship at Cal State Fullerton is no exception. But in a time of uncertainty, do entrepreneurs have an advantage?
Charlesetta Medina '10 (B.A. business administration-entrepreneurship), the center's consulting entrepreneur-in-residence, thinks so. "When you're an entrepreneur, it challenges you to look at your business in different ways. Adapting to constant change is a muscle that successful entrepreneurs develop over time.
Charlesetta Medina
"After the initial 'freak-out' — because that's human nature," she laughed, "entrepreneurs think, 'Where and how do I pivot to not only keep my current customers, but to also acquire new customers?' They find new ways to add value." She cited local restaurants that have added essential items like milk and toilet paper to their takeout menus as a recent example. 
John Bradley Jackson, center director and lecturer in management, said the center's reaction to the pandemic was quick and proactive, modeling what entrepreneurs should do. They reached out to mentors, faculty, students and businesses to find out what they needed and how the center could add value to each relationship in the "new normal." 
In the classroom, one of the most immediate needs was how to teach remotely. "We hosted a meeting with professors and discussed everything from converting testing methods to video conferencing etiquette," he shared. "The video tools were easy to master, but the content had to be reconfigured."
And as might be expected among faculty with entrepreneurial mindsets, they experimented with different approaches to challenges. Some taught courses live, while others like Travis Lindsay, lecturer in management and manager of the CSUF Startup Incubator in Placentia, prerecorded lectures. "We had a student in Japan and one in Morocco, which complicated things for class time," said Lindsay.
Travis Lindsay
The center rethought its operations as well. The annual spring pitch contest was shelved, but the mock funding panels in the new venture courses, where students pitch their ideas to potential investors, continued. The incubator switched to remote mentoring and conducts regular check-ins with residents. Companies "hiring" student teams to do capstone projects in the entrepreneurship concentration are working with the center to create activities that can be completed online. 
Even as the economy opens up, Medina expects businesses — and the center — to continue the shift to asking different and better questions. 
"We're seeing it now that many industries have been forever changed by this pandemic. Unless and until the right innovation strategy can be implemented, many businesses will risk being left behind," she said. "We have to keep our innovation and entrepreneurial mindsets engaged toward adding value in all elements of our business ventures. There's always opportunity on the horizon."
Contact: Karen Lindell, klindell@fullerton.edu