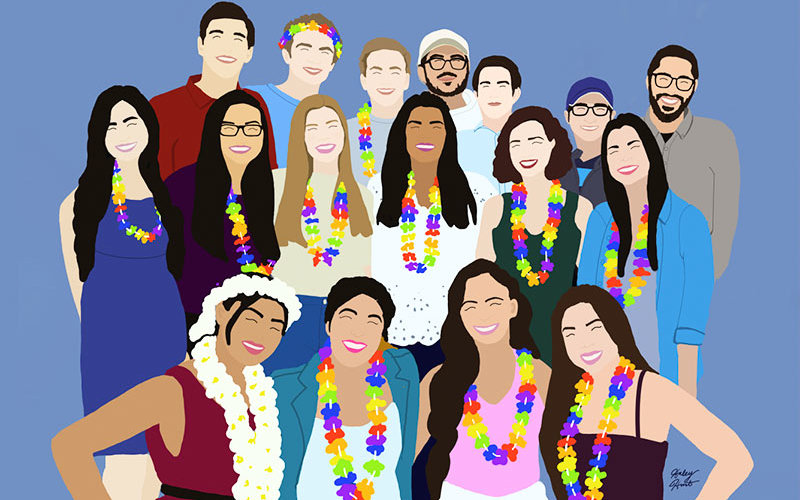 Growing up, Haley Hunt knew that earning a college degree would open doors to possibilities she only dreamed of. But family financial difficulties made college seem like an impossible dream.
In high school, Hunt focused on academics, while playing basketball and getting involved in student government, and held on to her goal of going to college.
She was accepted into Cal State Fullerton's President's Scholars program and received a four-year financial scholarship that gave her the opportunity to realize her dream. Now, she will graduate magna cum laude with a bachelor's degree in business administration.
"The President's Scholars program provided me a fully funded education and opportunities to grow academically, personally, and professionally, which I believe would not have been possible otherwise," she said.
Hunt is among 19 President's Scholars of the Class of 2020. Each graduate was recognized for their college accomplishments in a recent virtual ceremony for the seniors, hosted by the Center for Scholars, which oversees the program. Watch the event here.
"For the past four years, we have witnessed your incredible growth and watched all of you engage in leadership through clubs, sports, Greek life, and in many other ways. With great sacrifice, dedication, hard work, and a great deal of heart, you have impacted our community by giving back to many," Yajayra Tovar, director of the Center of Scholars, told the graduating class.
On average, President's Scholars complete more than 1,000 hours of community service, Tovar noted.
"Even during this pandemic, I was still hearing about scholars who were out supporting the community. The level of care and empathy in which you give others is a gift, and life-changing for those you have impacted. Each of you has set an amazing example. You remind us all to think beyond ourselves and find ways to make a difference in the world."
The merit-based program for high-achieving students offers experiences and opportunities in academics, leadership, service and mentorship. Students receive a four-year scholarship and other financial assistance to help them earn their college degree.
For Hunt, the program helped her grow academically and personally. She developed the confidence and skills to serve in leadership roles, such as on the President's Scholars Student Association Executive Board as president and vice president.
"I learned practical leadership skills, lessons in finances, and I was involved in service to the community, which allowed me to see the direct effects of many social and economic issues in our area. This helped me become more compassionate and inspired me to strive to be mindful of my actions in any situation."
Hunt, who made the Dean's List every semester and is a Business Honors student, also worked as the events student assistant in Mihaylo College of Business and Economics. A former art student, she also created a digital art piece of the graduating President's Scholars. 
"I wanted to give them something they would all have to remember our Class of 2020," she said. "I know we were all a bit sad that final events to celebrate our graduation were canceled, but we could still celebrate our achievements."
Her long-term career goal is to land a leadership position for a company. After graduation, she plans to enter the workforce as a product marketing manager at the company where she interned as a student.
Hunt also credits the Center for Scholars staff for helping her attain her degree in four years: "They went above and beyond each semester to help me to stay on track, while providing mental and emotional support."
Contact: Debra Cano Ramos, dcanoramos@fullerton.edu