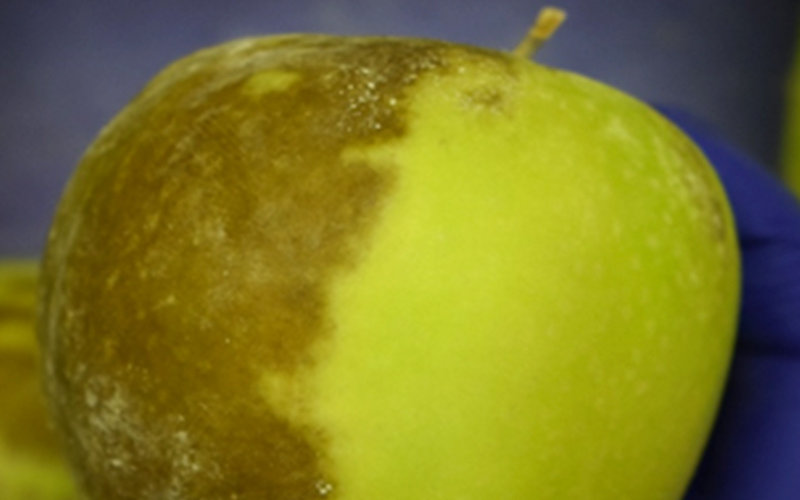 Future plant biologist Brittany Cook wanted to find out why some apples go bad after they are picked.
For her undergraduate research project, the recent graduate embarked on a study comparing apples to apples — from a genomic (a plant's genetic material) perspective. Apples, among the most valuable fruit crops in the U.S., are often stored in a controlled atmosphere after being harvested to make them available year-round, Cook said.
Some picked apples are more susceptible than others to a variety of disorders, such as bitter pits, damage from the sun and internal browning. With more than 2,500 apple varieties, she focused on Granny Smith and Honeycrisp for her research project.
"It's important because these disorders cause millions of apples worldwide to be discarded. Apples with disorders such as these are aesthetically unappealing or taste poorly — and are unable to be sold. It's a waste both economically and environmentally," said Cook, who earned a bachelor's degree in biological science with a concentration in plant biology.
As a scholar in the Southern California Ecosystems Research Program (SCERP), she wanted a research project that focused on agricultural issues and environmental sustainability.
"With this project, I feel like I'm making a direct contribution towards making food more affordable and sustainable for people," she said. "I suffered through food insecurity growing up, so knowing that reasonably good food — not just apples —  is thrown away each year, before it even makes it to consumers, is heartbreaking to me."
By studying the genetics of apples, with the goal of reducing bad apples, Cook examined why the tree fruit suffers from physiological disorders post-harvest under the mentorship of Joshua Der, assistant professor of biological science. The research is funded by the Washington Tree Fruit Research Commission, in collaboration with the U.S. Department of Agriculture.
For her project, she compared both Granny Smith and Honeycrisp with Golden Delicious apples. Cook identified more than 5.1 million differences between the genome of Granny Smith apples and Golden Delicious apples, which has its genome sequenced.
"These differences present a challenge for understanding the genetic basis of fruit quality traits in the varieties of apples we are studying. We are sifting through the differences to improve the accuracy of gene expression estimates to identify genes that may be important," Der explained.
Cook's research only scratched the surface and is a work-in-progress. Identifying the genetic differences in apples is like a puzzle due to the genetic diversity of the thousands of varieties.
"The apple genomes are like dense forests," she said.
Cook plans to continue researching apples in graduate school. In the fall, she begins Cornell University's combined master's degree/doctoral program in horticultural biology.
"I applied to Cornell as an 'out-of-my-reach' school — and it turned out better than I could have ever imagined," she said.
Cook attributes her undergraduate research achievements to being involved in SCERP, a university program supported by philanthropic donations. The program offers undergraduates opportunities to perform independent research in ecology and environmental biology to prepare for graduate school. A virtual research showcase was recently held, where each of the six graduating SCERP scholars, including Cook, presented their projects.
"The opportunities in research are huge and SCERP helped guide me towards that goal," she said. "SCERP is valuable because it helps you realize that there's so much more to biology than medicine; it provided a community of peers, alumni, mentorship and opportunities that have been crucial to my success. In the program, you're not just earning your degree and graduating, it prepares you for whatever you may want to do in life."
For Cook, she aspires to a career in the agriculture industry, where she can make food more accessible, affordable and sustainable.
Contact: Debra Cano Ramos, dcanoramos@fullerton.edu