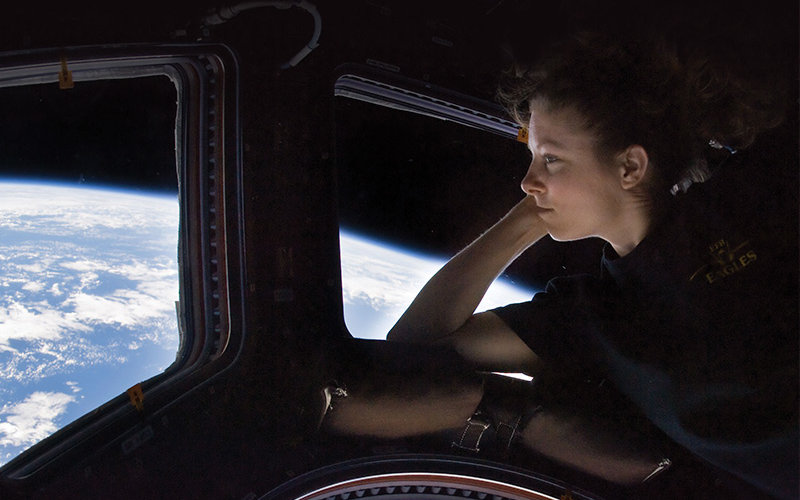 Many people gaze at the night sky in wonder and awe … but few make it past the pull of the Earth's gravity. One who did is alumna Tracy Caldwell Dyson, '93 (B.S. chemistry). As a NASA astronaut for more than 20 years, she has spent 188 days in space — the longest of which was a 174-day stretch aboard the International Space Station in 2010, completing three space walks and 22 hours and 49 minutes of EVA — extravehicular activity (activity done outside the spacecraft).
Over the years, Caldwell Dyson has made several trips back to her alma mater and recently recorded a video message to this year's Class of 2020.
So what was life like in the International Space Station? Was there a routine?
"There is a routine but there are times when you have to prepare for a critical operation such as a space walk or docking or berthing with a robotic arm," she said. "Aside from that, our routines often included a basic work day with maintenance of the shuttle, science of all 'flavors' including being a human subject, outreach, exercise and preparing for critical events."
According to Caldwell Dyson, the space walks were the most special experiences. "It's so amazing," she said. "Of course, you're very focused on what you need to accomplish during that time but there is the realization that so few people get the opportunity to do what you're doing.
"I also felt very blessed that the cupola had just arrived when I went to the space station," she said. "As you can imagine, the view was just incredible. It helped create an enormous sense of peace while I was there. I'd often go in there and look at the Earth before I went to sleep.
"Seeing the Earth from space really is awe-inspiring," she continued. "It's captivating and sometimes I could hardly believe where I was and what I was doing. When we would pass over California, it was nighttime for us. I missed my family, of course, and I'd want to call them and say, 'I see you.' Of course, it was daylight there. So I could see them but they couldn't see me."
When she was about 16, Caldwell Dyson decided to set her sights on becoming an astronaut.
"I always enjoyed science and chemistry in particular," she said. "Chemistry answered many of the questions I've had all my life. I also turned out to be pretty successful at it and I think it's because I really enjoyed it."
She also received mentoring from two CSUF professors: John Olmstead, professor emeritus of chemistry and Scott Hewitt, professor of chemistry. She still keeps in touch with both and credits their encouragement while she pursued her dream of becoming an astronaut.
While at Cal State Fullerton, she also participated as a member of the track team.
"That helped prepare me, too, not just physically but it challenged me in so many ways," she said. "I ran track in high school but competing in college was at a whole new level. Our coach, Benny Brown, was an Olympic gold medalist and he had high expectations for the team. The girls I ran with were phenomenal and, looking back, I don't think I appreciated the lessons I learned.
"On a team, you don't get to pick who your teammates are…and that's the same as on a space mission. We may get on each other's nerves from time to time but you learn to work cooperatively while at the same time, you're competitive.
"I also learned time management skills. We had practice every day at 4. So I'd spend my days studying and working in three-hour chemistry labs and then join the team.
"Being at CSUF offered me such a rich time of growth," she said. "You often don't appreciate it when you're in the middle of it. But when you reflect back, you see it."
Caldwell Dyson also talked about the thrill of being launched into space…and what Hollywood sometimes gets wrong.
"I love Hollywood," she laughed. "But we're not really bouncing around like it's sometimes portrayed. You're basically lying down and you're strapped in pretty tight. The seat is practically molded around you. Even though you aren't moving, there's a lot of vibration. Especially during the first two minutes of the Soyuz rocket launch, I was watching the monitors and my eyes were trying to adjust to the instruments' shaking. You do feel the pressure of the G-force pushing you back but it's usually a smooth, constant acceleration. Your body knows it's being hurled into space. The shuttle launch was very smooth with very deliberate motion.
"I remember on my first launch, I was excited but knew I had a job to do," she recalled. "I was focused on the monitors and controls but there was a sense of 'Oh, my gosh — I'm really doing this!' There were three guys on the flight deck who had flown before and one of them finally said, 'TC, look out the window." That broke my intense stare. There are moments of levity that break through."
Today, Caldwell Dyson continues her work at NASA. This includes serving as a capsule commander, the communications link between flight control and the astronauts, as well as training new teams of astronauts. And, as an operations officer, she manages the schedules of astronauts. She also needs to maintain her proficiency and training as an active astronaut.
"When you think about it, an astronaut spends only a fraction of time in space," she said. "Most of the time, we're on Earth, supporting missions, doing outreach, managing schedules. We may be waiting for a flight assignment or coming home.
"After 20 years with NASA, I love being a part of its history," she said. "It's more engaged with the world now. And I feel like I've grown up with the space station. It's gone from being a symbol to a world-class scientific laboratory. And with the advent of commercial launches, such as SpaceX, we're bringing even more awareness of the space program. It has been so gratifying and I'm just wallowing in it."
Contact: Valerie Orleans, vorleans@fullerton.edu