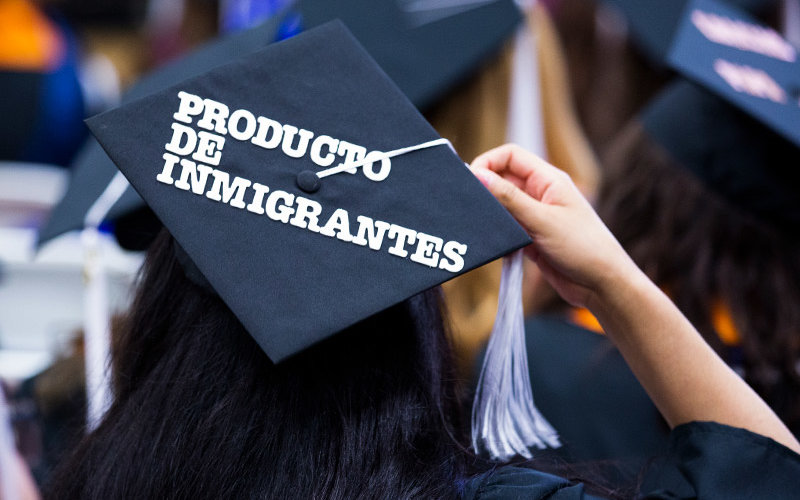 This morning (June 18), the Supreme Court ruled that the Trump administration could not immediately proceed with its plan to end the Deferred Action for Childhood Arrivals (DACA) program. The program protects about 700,000 young immigrants from deportation. At Cal State Fullerton, it is estimated that nearly 2,000 of the university's 40,000 students are among the "Dreamers" who would have been affected had this plan been implemented.
The university's Titan Dreamer Resource Center — the first such center for undocumented students in the California State University system — is a model for programs throughout the state. The center, launched in 2014, provides academic and emotional support, referrals to financial assistance, and information on programs and services that improve retention and graduation rates.
"This is a significant win, not just for 'Dreamers,' but for the nation, and it enables our DACAmented students to continue their education and thrive," said Tonantzin Oseguera, associate vice president for student affairs. 
"CSUF stands with our Dreamers; not just because it is the right thing to do, but because their presence illuminates a brighter future for all Titans and everyone who calls this nation home," said Fram Virjee, president of Cal State Fullerton. "We at CSUF are pleased that the Supreme Court (and every other court in the land) agrees with that stance, and proud that the amicus brief we submitted in partnership with the CSU was part of the advocacy that contributed to this decision. Led by our Titan Dreamers Resource Center — the first cultural center dedicated to undocumented students in the CSU — our support, advocacy and allyship will continue in ways that empower all Dreamers to apply to, enroll in, succeed at and graduate from Cal State Fullerton."
J Jesus Rojas Rivas, an undocumented graduate student, studying Chicana-Chicano studies at Cal State Fullerton, was also encouraged by the decision.
"I'm thrilled and joyful to know that DACA is not ending," he said. "This is a victory for the undocumented community and, being a DACA recipient, it is one less headache and struggle that I have to worry about. It is such great news and we needed this. I am very happy and emotional to know that DACA has overcome Trump's attempt to rescind."
Rivas added that there is work yet to be done.
"We may have won a battle but not that war," he said. "We need a better immigration system. A great number of folks still do not have DACA and they need some sort of protection as well, not because of their contributions to the economy, but because they are humans and have the right to the pursuit of happiness and financial stability."
Contact: Cerise Metzger, cmetzger@fullerton.edu