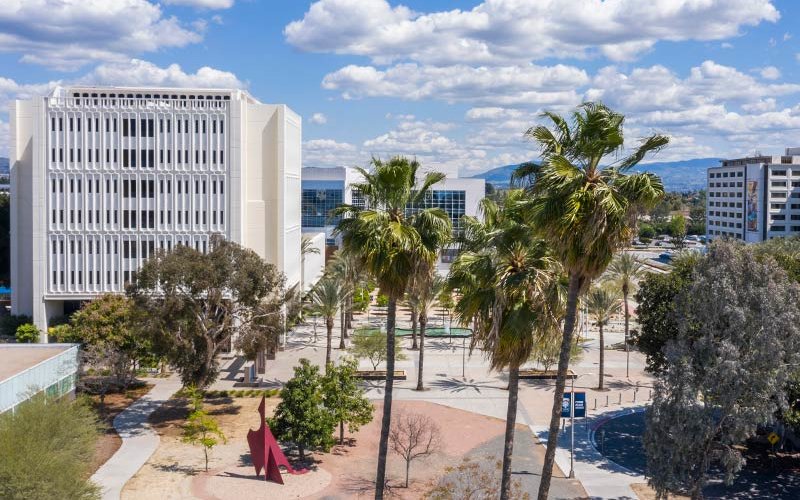 Cal State Fullerton faculty and staff generated nearly $2 million in funding in May for research and programs on such topics as improving STEM graduation rates, drug treatments for COVID-19 and helping formerly incarcerated students navigate higher education.  
Despite the pandemic, campus members continued to present and publish, and three were awarded emeriti status.
EMERITI
Kathryn Dickson, professor emeritus of biological science for 31 years of service. 
Robert Minor, technical service coordinator emeritus, in honor of 38 years of service. 
Karen Weller, lecturer emeritus of theater and dance for 10 years of service. 
GRANTS
Merri Lynn Casem, chair and professor of biological science: $962,361 from the National Science Foundation for the project titled "Establishing Roots to Grow STEMs: Affirming STEM Identity, Building Community and Improving Graduation Rates Through a Multidisciplinary Lower Division Curriculum."
Related: Students Learn to Think Like Einstein
Amybeth Cohen, professor of biological science: $479,303 from the National Institutes of Health for the Maximizing Access to Research Careers (MARC) training program.
Related: Biology Professor Inspires Students to Chase Their Research Dreams
Brady Heiner, executive director of CSUF's Project Rebound: a total of $147,500, including $135,000 from the Bickerstaff Family Foundation, for Project Rebound 2020-21 (year 4) and $12,500 from the Cal Poly Pomona Foundation Inc. for the Project Rebound mentorship project.
Related: Boundless Opportunity
Stevan Pecic, assistant professor of chemistry and biochemistry: $142,000 from the National Institutes of Health for the project titled "Development of Dual Soluble Epoxide Hydrolase/Fatty Acid Amide Hydrolase Inhibitors as a Promising Therapeutic Strategy for the Treatment of Acute and Chronic Pain."
Related: Biochemist Seeks Drug Treatment for COVID-19 Patients
Laura Gil-Trejo, director of the Social Science Research Center: $119,649 total
$97,611 from the California Air Resource Board for the 2020 Pleasure Craft Activity Web-Based Survey project
An additional $13,987 award from the University of California, Davis for "Effects of a Precarious Future on Youth Health and Wellbeing" 
$8,051 from Nasura Inc. for the Focused Group Discussion for ShakeAlert Communication project  
Lucia Alcala, assistant professor of psychology: $49,945 from the Spencer Foundation for the project titled "The Development of Executive Function Skills in Maya and European-American Children."
Zhuangjie Li, professor of chemistry and biochemistry: $36,454 from Middle Tennessee State University for the project titled "Toxicants Found in Wildfire Smoke."
Do Kyeong Lee, assistant professor of kinesiology: $9,660 from New York University for the project titled "Play and Learning Across a Year."
Daniel Ignacio, lecturer in psychology: $1,500 from the Psi Chi International Honor Society in Psychology for the project titled "Music Production in Cognitive Rehabilitation for Community-Dwelling Survivors of Traumatic Brain Injury."
Related: Titan Voice, "We Are Blessed With Hardships to Humble Us"
HONORS
Jason Shepard, chair and professor of communications, has been elected to the Professional Freedom and Responsibility Committee of the Association for Education in Journalism and Mass Communication. The committee coordinates professional freedom and responsibility activities across all divisions and interest groups.
PRESENTATIONS
Michelle Martin, assistant professor of social work, presented a virtual workshop titled "Charting Your Career Path Using a Strengths-based Approach" for employees hired to support the 2020 Democratic National Convention Convention in Milwaukee.
Joanna Roche, professor of art, and Dave Plouffe '08 (M.A. art-art history), lecturer in art, both presented as part of the Dorothy Marie Lowry Distinguished Guest Lecture Series at the Saddleback College Emeritus Institute. Roche presented "Ornamentation vs. Abstraction: The Dynamic Saga of 20th Century Graphic Design" and Plouffe spoke on "Art Theft, Looting and Repatriation."
PUBLICATIONS
Ryan Gottfredson, assistant professor of management, has published the book "Success Mindsets," which looks at the mindsets best for personal, professional and leadership success. It has appeared on the best seller lists of both USA Today and The Wall Street Journal.
Related: Management Scholar Proposes Better Way to Develop Effective Leaders; Mihaylo Professor Discovers Key to Successful Leadership
Contact: Karen Lindell, klindell@fullerton.edu