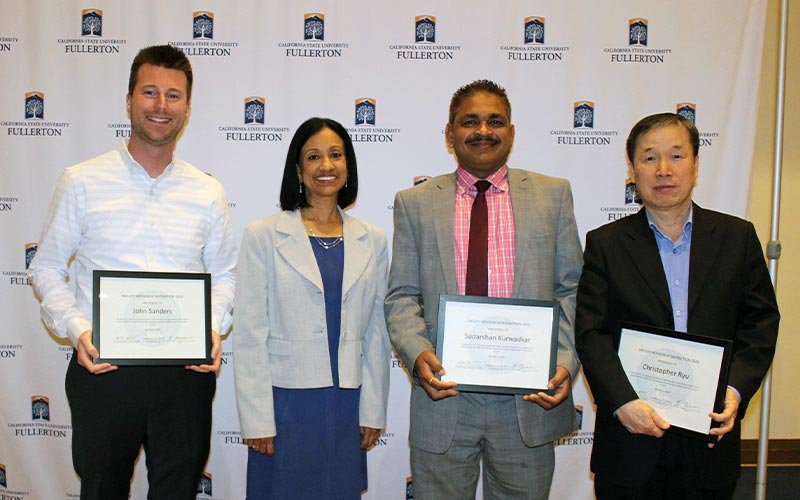 Faculty members may not always be aware of the impact their words have on students. But, as professors and lecturers discovered at Cal State Fullerton, students often relish the opportunity to acknowledge their faculty mentors and supporters.
"We wanted faculty to understand that providing expertise in their field and their curriculum is important but so is the gift of their time and caring," said Elizabeth Boretz, assistant vice president for student success and director of the Academic Advisement Center. "The university has resources to troubleshoot transcript issues, find internship contacts or locate services to address hunger or family issues. But students often need additional encouragement. That encouragement, or almost any gesture on the part of faculty to students, can make a significant impact."
To drive home the point, a form was added to the student portal, inviting students to submit 150-200 word nominations for faculty excellence outside the classroom. Yes, that is correct — excellence outside the classroom and teaching.
Beginning three years ago, faculty members who were acknowledged in this way were invited to a luncheon, the Career and Academic Advising Recognition Celebration,  where each submission was read out loud.
"Students had the opportunity to express themselves and let faculty know how meaningful these interactions were," Boretz said. "Some faculty were brought to tears by the words of their students. It was a rare moment, to see students open up and express to their faculty advisers the significance of their presence in their lives."
Dr. Adams (David Adams, assistant professor of public administration) has continuously supported all students in his political science course by giving advice and encouragement at every class meeting. He has encouraged me to pursue a degree in higher education when previous faculty had discouraged me. The first conversation I had with him was extremely significant since I was doubtful and indirectly seeking academic advice. After our conversation, I walked out to the quad area, sat down and cried for a few minutes. His positive reinforcement was what I needed to leap in and take graduate level courses for my professional and personal development. I am grateful for the support I received that day and throughout the semester. Dr. Adams has demonstrated the importance of supporting graduate level education to returning students. Furthermore, he encourages academic success while understanding the difficulty of balancing school, work and a family.

 

Anonymous
As the student nominations were read aloud, some faculty honorees were striving to maintain their composure. 
"It was evident that many students welcomed the chance to put their heartfelt words into writing," Boretz said. "Many would not have felt comfortable stating their words out loud during faculty office hours. 
"The faculty, all of whom were taken by surprise when notified of the honor, were touched that students had taken the time to acknowledge them."
Some of the letters expressed gratitude that faculty encouraged students to attend graduate school. Others talked about how faculty members explained that when you encounter obstacles, it doesn't mean you don't belong. Still others shared with students their own past hardships demonstrating that students should continue to move forward.
Still other students mentioned that faculty taught them to take risks and be ambitious — in leadership, class participation, research, asking for help.
Now deans, chairs and other faculty members are often present when student submissions are read. The effort for this program was a partnership between Boretz; Catherine Ward, executive director for assistant deans in student affairs; and Elizabeth Zavala-Acevez, director of career services.
"I think this demonstrates to faculty how important their roles are when it comes to student success," said Boretz. "They are valued members of the student success teams." 
Contact: Valerie Orleans, vorleans@fullerton.edu