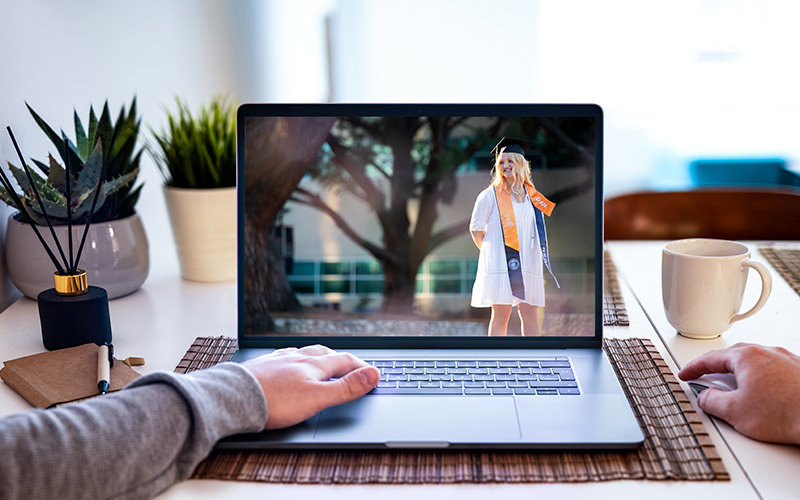 An astronaut, a restauranteur, a professional basketball star, a sports reporter and more … What do they have in common? They are among the Titan alumni who will be sending out virtual congratulations to members of the Cal State Fullerton Class of 2020.
A few weeks ago, CSUF's graduating students would have been walking across the stage to celebrate their academic achievements after years of study and hard work. But the COVID-19 pandemic and stay-at-home orders put an end to that. 
So instead, beginning June 13, graduates (along with their friends and families) will have the chance to view Cal State Fullerton's first virtual commencement celebration.
Once it was determined that an in-person ceremony would have to be postponed, plans were developed to have a celebration for the Class of 2020 online until gatherings are again allowed.
"We felt terrible that the Class of 2020 was unable to get the ceremony they deserved, so we wanted to do something special, and we came up with the virtual commencement celebration," said Greg Saks, vice president for university advancement. "This is not to take the place of a physical commencement, which we still hope will happen, but to offer something during the traditional commencement season."
On the commencement celebration website, there is a virtual yearbook that includes personalized slides for graduates who chose to participate. Graduates were given the opportunity to customize their slides with a photo and a favorite quote. When people click on the slide, they will be able to view the photo and quote … and the graduate's name will be read. All eligible graduates will be represented with a slide.
In addition to a congratulatory message from President Fram Virjee, several prominent Titan alumni have stepped up to welcome the graduates into the extended Titan alumni family.
Among the notable alumni who are looking back at their own college years and extending their greetings to the newest alums are Tracy Caldwell Dyson, NASA astronaut; Bruce Bowen, professional basketball player; Roy Choi, restaurateur; Anthony Rendon, speaker of the California State Assembly; Marc Stein, sports reporter for The New York Times; Vikki Vargas, NBC4 Orange County bureau chief; and Dennis Kuhl, chairman, Los Angeles Angels.
Each of the university's eight colleges also will be celebrating and honoring the graduates on this site.
Beginning June 13, access the website at http://www.fullerton.edu/commencement/.
Contact: Valerie Orleans, vorleans@fullerton.edu