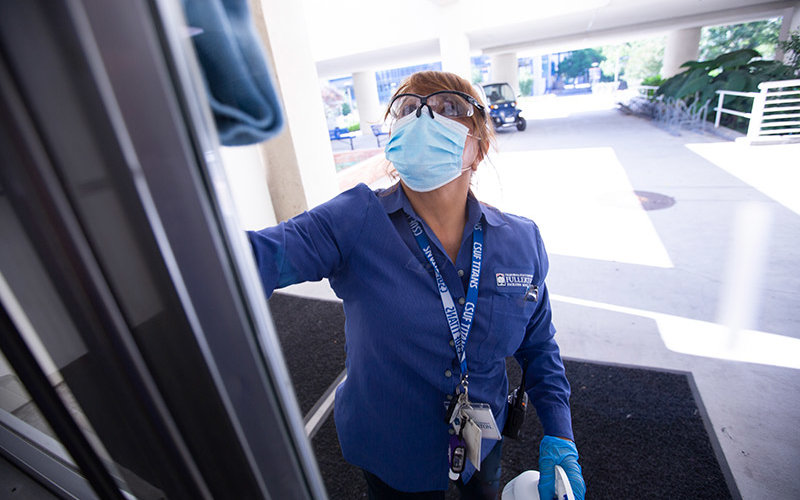 Since the start of the coronavirus pandemic, the Cal State Fullerton community of researchers, professors, students and staff has been actively involved in dealing with the effects of COVID-19. 
For instance, did you know that our professors and researchers are seeking new treatments for COVID-19 patients? Or that our business, communications and art students are offering their assistance to small businesses to help them through this difficult time? Or that our mathematicians are rethinking approaches to predicting the spread of COVID-19? Other professors offer advice on how to help educate children at home. 
Throughout campus there have been virtual workouts, cooking classes and lectures — most open to the public. A sampling of some of these stories chronicling the ways CSUF has reached out to help can be found in our Titan Voices blog. 
As we have extended a hand to help our community on many different fronts, we are now asking the local community for its help.
As the university begins the new academic year, the majority of students, faculty and staff will work and attend class virtually. However, there will be about 300 in-person classes scheduled per week, meaning there will be a fair number of students, faculty and staff members on campus.
In ordinary times, members of the local community are welcomed on the CSUF campus. Sadly, these are not ordinary times. In an effort to protect the health and safety of our students, faculty and staff who must be on campus, we are asking members of the community to avoid visiting campus at this time to ensure compliance with state guidelines. Not only is the goal to minimize the chances of spreading COVID-19 to the Titan community, but to the larger community as well. These guidelines can be found on the Titans Return: COVID-19 Recovery website.
"We know many members of our community enjoy spending time on campus and, for the most part, we welcome their presence," said John Beisner, executive director of risk management and compliance. "However, during the pandemic, we are asking for the cooperation of all Titans and local communities in refraining from coming to campus until further notice.
"If you must be on campus, be aware that face coverings are required, social distancing measures are in place, and other precautions are being taken. If we all work together, we can mitigate the transmission of this deadly virus … and look forward to inviting members of the community back to enjoy sporting events, arts performances, lectures and more. We appreciate your understanding."
Contact: Valerie Orleans, vorleans@fullerton.edu