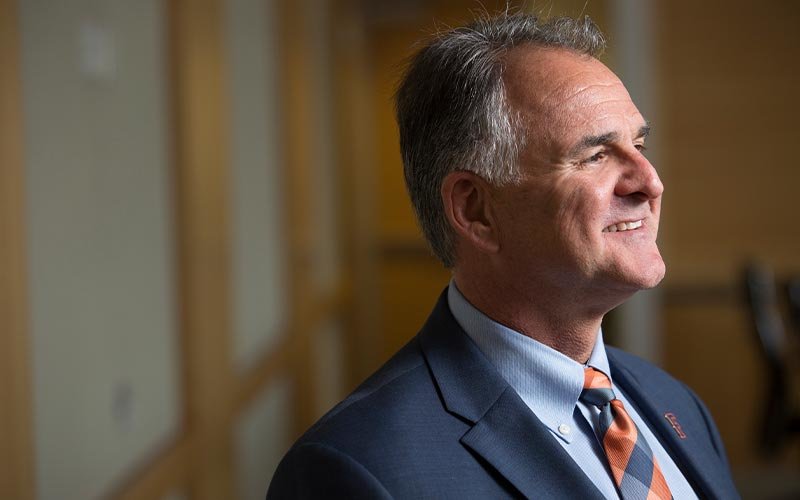 Dear Titan Family:
As an old soul (and getting to be somewhat of an "old person"), I enjoy the long-lost art of hand writing thank you notes. I have sent hundreds of such notes to Titans since we switched to virtual teaching and learning last March, and if there were more hours in the day and less carpal tunnel in my writing hand, I would not stop until each of you had one of my chicken-scratched scribbles of personal thanks.
I say that not to insinuate that a card from me is some sort of treasured Titan prize that miraculously alleviates the stress under which we are all working, teaching and learning. I know that is far from the truth. However, I also know that my appreciation for what all of you have done these past months — from pivoting on a dime to create an engaging academic experience last spring to preparing for an even more robust virtual fall — cannot be conveyed in an email, a Zoom window or a phone call.
It needs that personal touch, and since we cannot meet face-to-face, for now, a hand-written note will be as good as it gets — time and carpal tunnel permitting.
For a few weeks there, I chalked such inconveniences up to what many are calling "the new normal." Can't meet face-to-face to thank someone? New normal. None of your classes were approved for in-person modalities? New normal. Spent all summer completely re-learning how to teach, work and learn through a Zoom window? New normal.
I could go on, but I am realizing now that I do not like that phrase. What we are going through is new, for sure, but it is about as far from "normal" as you can get. That said, it is our current reality, and as we continue to navigate this pandemic by our twin touchstones — the health and safety of our community, and the continuity of both high-quality education and high-impact student support services — we will, from time to time, have to face that reality with heartbreaking decisions.
I was reminded of just that yesterday as I, along with all of you, received Chancellor White's message announcing that the CSU system will continue to operate primarily virtually in spring 2021. Yes, I was at the table for the discussions that led to this decision. Yes, deep down all of us likely knew that this would be the best and safest path forward. And yes, this announcement aligns with a truth that has served us well these past months, one that other institutions have come to learn the hard way: primarily virtual instruction with a gradual transition to face-to-face is a great deal easier (and a whole lot safer) than primarily face-to-face instruction that prompts an emergency transition back to virtual. I fully support Chancellor White's decision. Full stop.
All that said, the sting of the final decision in his letter is no less crushing — no less crushing for me; no less crushing for Julie, whose tears last night broke my heart as much as the news that prompted them; and of course, no less crushing for any of you. Because we miss our campus. We miss each other. We miss the bonds and connections that are not the same over Zoom. We miss going to meetings wearing actual pants rather than old gardening shorts or pajama bottoms. And of course, we miss the peace of mind that is not possible when you are worried about loved ones, acting as home schoolers, caring for sick family members, or working around the clock to adjust to virtual teaching and learning.
In other words, we miss what actually is "normal," and as much as we yearn a return to that way of life, we know that doing so now does not track with our much-mentioned twin North Stars that must continue to be the source of light that illuminates our path forward. I say "we," because the university has received overwhelming feedback from faculty, staff and students that underscore one common feeling in regards to the spring and beyond: As much as we miss campus and the in-person Titan experience, we, as a community, understand that returning to it prematurely flies in the face of our preeminent responsibility to protect and ensure the health and safety of our students and all Titans and their families.
Chancellor White has heard those same sentiments expressed across the system, and his letter is replete with data points that underscore the why; why this is not only the right decision, but the right time to make it. I will not repeat those reasons here, but if you have not already read his letter, I strongly encourage you to do so, taking care to absorb all of the thought and difficult reasoning behind this collaborative, system-wide decision. In doing so, you will notice that the chancellor continues to recognize that the unique differences across our system's campuses — from geographic location to student body population — warrants the need for each of the 23 institutions to create a spring 2021 plan that best fits their respective needs and strengths while remaining within the broader systemwide framework. 
For us, that means, as least as of now and based on our current reality, that little will change from fall to spring, and the vast majority of our courses will continue to be taught in remote fashion with a small and safe set offered in person. While it is possible that health and safety guidelines will shift in ways that empower us to transition even more of our synchronous remote courses to in-person modalities during the spring semester, our plan at this time will be for only a limited set of such face-to-face offerings. In determining these in-person courses, we will focus, as we did this fall, on those with learning objectives that cannot be effectively achieved remotely.
I suspect the chancellor's systemwide letter (and this Cal State Fullerton amendment thereto) might raise as many questions as it answers. Rest assured, as we continue to chart the path ahead, we will remain inclusive and transparent with both the decision-making process and the information and policies born from it — beginning, of course, with the spring 2021 plan we are preparing now to submit to the Chancellor's Office. 
Thank you for joining me in that endeavor. To our faculty and staff, thank you for training, learning and adapting to better serve our students through virtual modalities. To our students, thank you for meeting and embracing the challenge to excel in a virtual learning environment. To all of you, thank you for your patience and perseverance, and for your kindness and care with each other. Thank you for understanding and for supporting our goal to transition back to our old way of life only when it is safe and responsible to do so. Thank you for believing that the constant adversity we now face is not "normal," but simply "new," and, in time, it will not even be that — just another chapter in our rearview mirror that encapsulates our enduring history of Titan tenacity and toughness.
When that day comes, I aim to be the first one to welcome you back home and thank you for everything you did to help get us there. For now, you'll have to settle for this email, and hopefully at some point, a hand-written note with your name on it.
You have certainly earned it.
Sincerely,
Fram Virjee
President