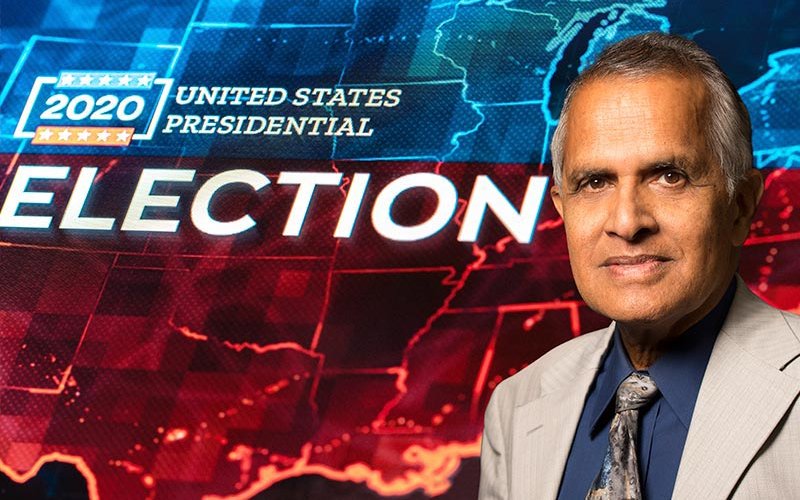 For the last four presidential elections, Cal State Fullerton's Chandrasekhar Putcha has developed a mathematical model to predict the next U.S. president. 
In the 2020 race for the White House, Putcha predicts Democratic Party nominee Joe Biden will clinch the nation's top elected post by a wide margin — winning both the electoral votes and the popular vote.
Republican President Donald Trump is challenged in the Nov. 3 general election by former Vice President Biden, who served under former President Barack Obama. Biden also is the front-runner in national polls.
Using a mathematical analysis he created, Putcha forecasts Biden to win with 49.22% of the popular vote and 350 electoral votes, and Trump with 45.58% of the popular vote and 188 electoral votes — a 5% margin of error. A candidate needs 270 electoral votes to win the presidency.
"The data used is polling data from various well-known sources, which is sufficient for prediction purposes," said Putcha, professor emeritus of civil and environmental engineering. 
"The assumption is based on the premise that the polls will capture the pulse of the people as to how they are planning to vote; if the polling is correct, the mathematical model should accurately predict the outcome of the presidential election."
In battleground states such as Florida, the mathematical model developed by Putcha, for example, predicts Biden to capture all 29 electoral votes with a 62.80% winning probability — and sweep California with a 100% probability and tally all 55 electoral votes. Trump is expected to prevail in a tight race in Ohio with 53.98% winning probability and 18 electoral votes; and, nab 11 electoral votes with 97.35% winning probability in Indiana.
With a week before the election, Putcha reminds that the presidential race is still fluid.
"While the mathematical calculations are correct, they require a high degree of accuracy in the various polls. Some polls are better than other polls," he said, adding that the percentage of undecided voters is between 5% to 6%.
What could affect his prediction, Putcha added, is that often undecided voters historically tend to vote for the underdog, which is Trump, and at a rate of 75%. Other factors that could skew the prediction is that some Republican voters are reportedly refusing to participate in public polls.
Putcha made mathematical model predictions in 2008 and 2012, which correctly predicted that Obama would win the presidency. In the 2016 presidential election between Trump and Democratic nominee Hillary Clinton, he had pegged Clinton to win the presidency.
"The math model that we used in 2016 was correct," Putcha explained. "The data that went into it was wrong because the polls were wrong."
Putcha teamed up once again with his former student Vineet Penumarthy, who earned a bachelor's degree in mechanical engineering in 2016, and economist and research associate Brian Sloboda. Putcha worked with both on the 2016 presidential prediction, as well as on joint research efforts.
Penumarthy, who earned a master's degree in biomedical engineering from Illinois Institute of Technology and is a design engineer working in New Delhi, India, added that the game changer is the pandemic.
"This pandemic is causing real damage to people's livelihoods, so my belief is that people are more open about how they will vote and so the polling data will be correct," he said.
Over his 40-year academic career, Putcha's interdisciplinary research has focused on engineering reliability and risk analysis. For the last four presidential elections, he has used the same methodology of probability and statistics — principles he uses in engineering analysis.
"The tools we use are different than what a political scientist would use. Our engineering math model is more robust," Putcha said. "The methodology is done so that it captures both the popular vote, as well as the Electoral College, which are important for predicting the winner in any American presidential election." 
The collaborators culled election polling data from various agencies, such as Survey Monkey/Tableau, Survey USA, YouGov/CBS and ABC/Washington Post, and calculated the probability of winning for each candidate, then assigned the corresponding electoral votes from each state for each candidate. 
"We then combined the two sets of data to reach a winner," said Putcha, who joined the university in 1981 and is CSUF's 2007 Outstanding Professor. He is in the Faculty Early Retirement Program and teaching part time. This fall semester, he is teaching two civil engineering courses, in addition to continuing his research in risk analysis.
How confident is Putcha of his 2020 presidential prediction?
"I'm 95% confident that we have accurately predicted America's new president."
Contact: Debra Cano Ramos, dcanoramos@fullerton.edu