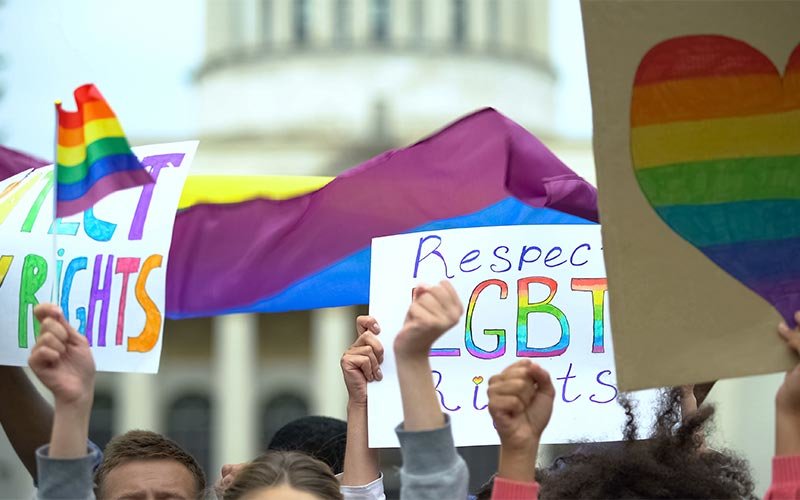 In celebration of LGBTQ History Month, two LGBTQ advocates discussed the history of civic engagement, social justice and more with moderator Jason Shepard, chair and professor of communications. Gerrie Schipske serves as a health care staff attorney/advocate for Community Legal Aid Southern California. Raymond Ortiz '11, '15 (B.A., M.A. history), former outreach counselor at the LGBTQ Center Orange County, is a CSUF alumnus. 
What issues have been most impactful among LGBTQ communities over the past 10 years? 
Schipske: I think visibility has been the biggest issue. Harvey Milk once told the LGBTQ community, "You need to come out. When you come out, it is difficult for you to be 'the other.'" You become the family member, teacher, doctor. 
Ortiz: I think one of the biggest issues is how we deal with politics. Our concerns should be about policies, not politics. Look where we are now and look at what we're now fighting for: same sex marriage, trans rights, gays being able to adopt, workplace discrimination. We're now fighting to protect what we've fought for. We're still fighting the same battles. The reason we have the same arguments is because legislation isn't one and done. Now that we have these protections, can we keep them? We need wins at the federal level — these are not guaranteed.  
In your personal/professional experiences, how have you linked civic engagement to advocacy?
Ortiz: I work for nonprofits. I was always open about who I was, but change doesn't happen overnight. Are you just looking for people to agree with you? You have a chance to make an impact with the messaging that you do. I want to be true to myself. I want to present a conversation and be seen for who I am. Just because people are spiritual, doesn't mean we're anti-LGBTQ. Look at Pope Francis calling for civil unions. When enough people share their concerns, it forces the hand. 
Schipske: I work for an organization that provides free legal services, and I focus on issues related to health care. I see the systemic discrimination, especially against those who are transgender. We see the problems and realize our health care systems are not as friendly and helpful as they need to be. If you do not have access to health care, you can't go to school, work or be civically involved. I'm fortunate to work at a place where diversity is welcome. I have been with my partner for 40 years, and we are now married. I've had three foster children who we were able to adopt. This is the importance of coming out. People get to know you. I do feel those in political office need to serve as role models. 
What are the political aspects of what the LGBTQ community can do? What do you wish the Republican/Democratic parties knew? 
Schipske: The Democratic Party has long known the importance of LGBTQ community. There are good people in the Republican party, but many haven't spoken out against discrimination. We need to hope that good people will speak out and repair our country.
Ortiz: I agree. This country was founded on separation of church and state, but there are those who want to push their religious beliefs on you. This impacts everyone. This country was not founded on "your beliefs."
What do you wish members of the LGBTQ community knew more about? 
Schipske: Voting. That folks are still, at this point undecided, it's beyond comprehension. But look at early turnout — that's phenomenal. Seeing the surge among young people is so important. They are setting the course of the future. I think this is the beginning of a turnaround in the political system. Their numbers can make a critical difference. It really does matter. 
Ortiz: Be aware of the divisions internally — discrimination, particularly against trans people isn't commonly shared or experienced. We are stronger in numbers — we need to work together. It strengthens our community. Cultural differences can sometimes cause divisions. I am a gay Hispanic. There are gay whites or Blacks or Asians. We need to support one another. Be woke about causes other than our own. 
Any advice to those who want to leverage civic engagement to support LGBTQ rights? 
Ortiz: If you are going to take up the mantle, educate yourself. Don't let your own privilege blind you. When voting, don't rip up candidates who don't check every single one of your boxes. I'm celebrating that Mayor Pete, a gay man, was able to get as far as he did. But let's not take away from this moment. A woman of color is there! Different groups are still trying to get representation and a seat at the table. It drives me nuts when voters say, "It's California — my vote doesn't really matter." That, in itself, is privilege. It must be nice that you can feel so comfortable doing that — exploiting your own privilege. 
Schipske: Speaking of privilege, many students can be on their parents' health care policy until they're 26. But look at the Affordable Care Act. It is one of the most revolutionary programs since Medicare. It removed preexisting conditions. It not only provides a minimum level of benefits, but also helps fund nursing training and allied professional training. They're also looking at waste and abuse in the health care system. Talk to people who haven't had health care coverage. If our leaders can dismantle the ACA without a reasonable replacement, we will see millions of people without access to health care. Most of these are working people who don't have access. They would have nothing.
For more information on upcoming Titan Table Talks or other activities related to diversity, equity and inclusion, visit Diversity, Inclusion and Equity Program's online newsletter.
Contact: Valerie Orleans, vorleans@fullerton.edu