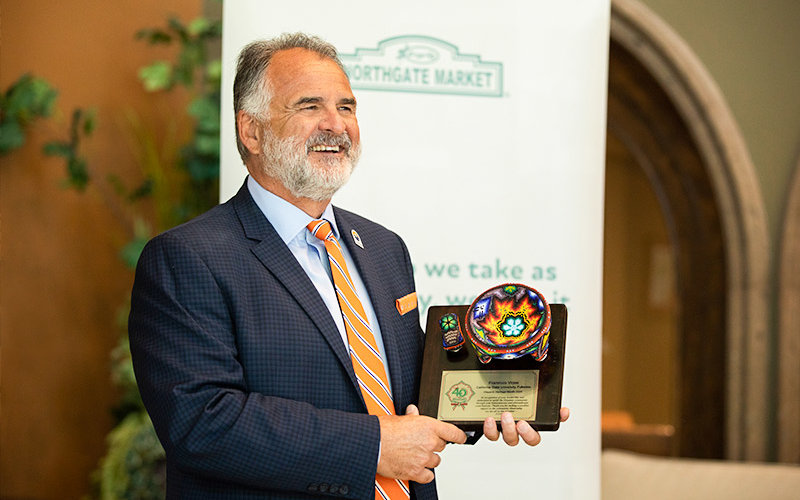 On Oct. 14, Cal State Fullerton President Fram Virjee received a JUNTOS ("together") Award from Northgate Gonzalez Market to honor his work in "lifting up the Hispanic community through humanitarian and philanthropic contributions." 
Virjee was selected because of the positive impact he and the university are making in the community. As a recipient of the JUNTOS Award, he will receive $2,000 to donate to the local nonprofit organization of his choice. The president indicated that this award would be split between two CSUF programs: The Titan Dreamers Resource Center and the Male Success Initiative. 
The Titan Dreamers Resource Center provides undocumented students with academic and emotional support, referrals to financial assistance, information on programs and services that improve retention and graduation rates, and a comforting environment where students can connect with one another.
The purpose of MSI-Fullerton is to support and advance the potential of undergraduate men of color by providing tailored programming and services to empower men of color with the skills and knowledge they need to foster academic success; establish a support network of mentors; increase graduation and retention rates; and strengthen the sense of brotherhood among all CSUF students who self-identify as men of color (African American, Latinx, Asian-American/Pacific Islander, American Indian, and multiracial men, this also includes men of trans experience).
"I am honored to receive this award, but I do so only on behalf of the faculty, staff, students and community supporters whose work and achievements led to it," said Virjee. "First, our Latinx/Chicanx students reflect the grit, intelligence and academic excellence that have become synonymous with our university-wide theme, 'It Takes a Titan.' And of course, our faculty and staff's commitment to providing equitable pathways to high-impact and academically rigorous programs breathes much life into our students' academic goals and life dreams. And finally, the time, treasure and talent of engaged community members such as the Northgate Gonzalez Market empower the university to continually enhance its mission to lift up our collective communities. Together — faculty, staff, students and community supporters — make Cal State Fullerton No. 1 in the state and No. 2 in the nation for Latinx/Chicanx students earning bachelor's degrees, and I want to specifically thank Northgate Gonzalez Market for it's support and contributions."
Northgate Gonzalez Market is awarding $40,000 to various Southern California nonprofit organizations in honor of its 40th anniversary.
Contact: Valerie Orleans, vorleans@fullerton.edu