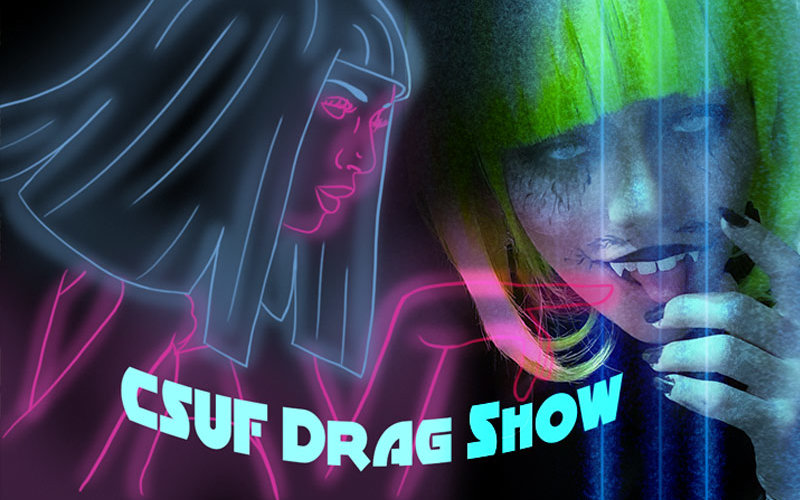 Dressed in black leather shorts, rope harness around the torso, thigh-high vinyl boots, a neon yellow-green short bob wig — and dramatic dark makeup, white eyes and fangs — student Shahayla Perez for the first time performed in Cal State Fullerton's annual Drag Show.
This was Perez's chance to transform an inner Gothic-like dark side and masculinity persona, known as a "drag king" — a woman/female who performs dressed as a man. Perez virtually staged a lip-sync performance to the song "Hetero Heaven" by Rio Romeo.
Perez, whose gender pronouns are she/they/he, performed as part of the virtual drag show, held in celebration of October's National Coming Out Week and LGBTQ History Month. The event, hosted by CSUF's Housing and Residential Engagement and LGBT Queer Resource Center, featured professional drag queens who entertained an audience of mostly students with dancing and lip-sync performances.
"Drag is a gender-bending art form in which a person dresses in clothing and makeup to exaggerate a specific gender identity," said Alexis Arreguin (he/him), one of the event's emcees. Arreguin, a student resident adviser for Rainbow House, a themed living and learning community for LGBTQ students and allies in the university's residential housing, presented the history of drag.
Drag is believed to have originated in Shakespearean plays when men dressed as women and expressed how their costume dresses would "drag" across the floor, Arreguin shared. Today, "RuPaul's Drag Race" reality television series has popularized drag as an art form, with drag personas such as over-the-top female impersonations called "camp" to "pageant" queens, styled after traditional beauty contests.
Perez attended a small charter arts high school, which offered a space for creative pursuits and support to come out as genderqueer and bisexual. The art major chose Cal State Fullerton to study painting and drawing and found a nurturing and supportive environment at the LGBTQ Queer Resource Center. Perez also works at the center as a graphic designer to create promotional materials for student events, such as the Drag Show.
Why perform in the Drag Show?
I'm inspired by drag queens "Androgyny" and "Is She Hungry" who make drag fun and exciting. Drag is like having a blank canvas; your body is the canvas and I'm sharing my art. I've always been interested in costuming, so creating my Goth look was a chance to mesh both my masculine and femine expressions — and blur gender lines. Drag is an expression of exploring gender and it's something I've always wanted to do. I felt comfortable performing in front of my CSUF peers; they were the perfect audience because they are loving and supportive. People reached out to me on social media afterward and told me they enjoyed my performance.
What is something you'd like others to know about drag?
For anyone who is interested in performing, don't let the fear stop you. It's an inclusive community and an opportunity to share what you love to do; it's your art and it's no one's place to tell you what you can and cannot do. For general audiences, it's like a theater production. Drag queens and kings are artists who put in a lot of hard work to present an entertaining show. 
How has the LQBT Queer Resource Center helped you in your college journey?
I gravitated toward the center during my first year on campus because it was important for me to find a like-minded community; it's a place to meet and connect other students with similar interests and backgrounds. The center is welcoming; it's like a second home for us. The center offers information about how to access resources on campus to help you in your academics and personal life, such as counseling and workshops. It's important to have a safe and supportive space for LGBTQ students, and to also educate others about our community to teach acceptance and inclusiveness.
Visit the LQBT Queer Resource Center, part of the Diversity Initiatives and Resource Centers, for more information. To support the center and students, visit the CSUF giving page, and the university's "It Takes a Titan" campaign website.
Contact: Debra Cano Ramos, dcanoramos@fullerton.edu