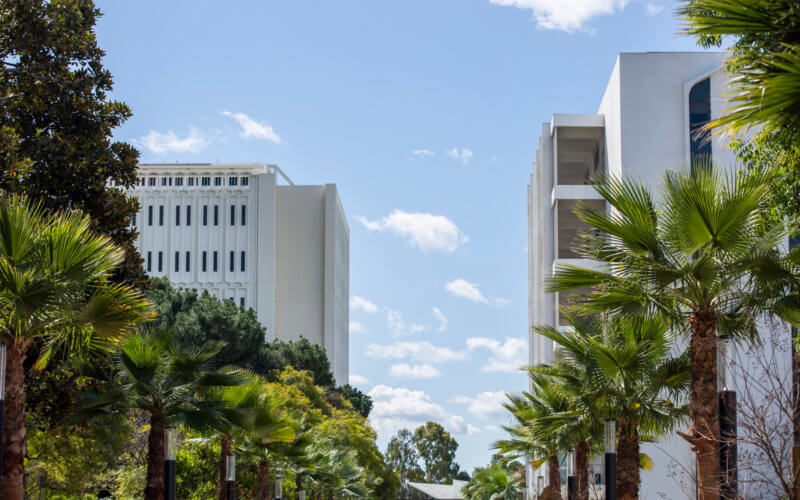 Cal State Fullerton faculty and staff took part in virtual presentations, published scholarly research and received recognition for their work. These are the items submitted during November 2020.
PRESENTATIONS/SCREENINGS
Penchan Phoborisut, assistant professor of communications, presented "Reimagining the Practice of Citizenship: The Visuals of the Unruly Youth in Thailand" to the Center for Southeast Asia Studies at the University of California, Berkeley. Phoborisut also participated in the roundtable "Uprising in Thailand," organized by the University of Wisconsin-Madison's Center for Southeast Asian Studies.
Bey-Ling Sha, dean of the College of Communications, sat on various virtual panels and presented:
"Education With an Equity Lens: What Democracy Looks Like to Next-Gen Public Relations Leaders" for the Institute for Public Relations and the Public Relations Society of America, Educators Academy, digital series Race in the PR Classroom: Special Edition Featuring 15 Leaders in PR Education;
"Building Relationships With Student Publics: How the First-Year Seminar Creates a Campus Community," with Deanna Leone, associate dean of the College of Communications, to the Educators Academy Super Friday Session 1 of the international conference of the Public Relations Society of America;
"Professionals in Public Relations: The Higher Calling" as the invited keynote to the annual conference of the Japan Society for Corporate Communication Studies; and
"Intercultural Public Relations: Implications for Deans in Managing Relationships and Conflicts With Strategic Publics" for D4D, Books by Deans for Deans, hosted by the Council of Colleges of Arts & Sciences.
A film short by Mun Chee Yong, assistant professor of cinema and television arts, was screened at the 31st annual Singapore International Film Festival. The Mandarin, Teochew, Cantonese-language "21 Days" follows a man's desperate quest for signs of his deceased mother's spirit.
PUBLICATIONS
Shelly Arsneault, professor of political science, co-authored a new textbook, "Managing Nonprofit Organizations in a Policy World, Second Edition."
Brenda Bowser, professor of anthropology, co-authored "The Impacts of Coastal Dynamics on the Saco de Pedra Shell in Midden Northeast Brazil" in Quaternary International.
Siobhan Brooks, associate professor of African American studies, published a new book "Everyday Violence Against Black and Latinx LGBT Communities."
Jochen Burgtorf, professor of history, published two co-edited volumes, one in German, and one in English: "Von Hamburg Nach Java: Studien zur Mittelalterlichen, Neuen und Digitalen Geschichte ("From Hamburg to Java: Studies in Medieval, Modern and Digital History") and "The Templars, the Hospitallers and the Crusades."
Ed Collom, director of faculty affairs and records and professor of sociology, published "Getting a Barista Job: Adjudicating the Impact of Human Capital, Social Capital, Age and Gender" in the Open Journal for Sociological Studies.
Guadalupe Espinoza, associate professor of child and adolescent studies, co-authored a book chapter "Cyberbullying Perpetration and Victimization Among Ethnic Minority Youth in the United States: Similarities or Differences Across Groups?" in "Child and Adolescent Online Risk Exposure."
Gary Germo, associate professor of human services, co-authored "Generativity and Shared Agency With Foster Youth for Education" in the Journal of Applied Developmental Psychology.
Alice Lee, assistant professor of public health, authored a commentary "Could Microchimerism Play a Role in Ovarian Carcinogenesis?" in the International Journal of Epidemiology.
Robert Lockie, associate professor of kinesiology, co-authored:
Melissa Montgomery, Robert Lockie and Derek Pamukoff, associate professors of kinesiology, co-authored "Association Between Knee- and Hip-Extensor Strength and Running-Related Injury Biomechanics in Collegiate Distance Runners" in the Journal of Athletic Training.
Tabashir Nobari, assistant professor of public health, co-authored "Severe Housing-Cost Burden and Low-Income Young Children's Exposure to Adverse Experiences: A Cross-Sectional Survey of WIC (Women, Infants and Children) Participants in Los Angeles County" in the Maternal and Child Health Journal.
Shaun Pichler, professor of management, co-authored the article "The Virtuous Cycle of Diversity" published in the Human Resource Management Journal. The research sought to understand how firms respond to social performance problems through diversity.
Kit Seaton, assistant professor of art, teamed up with author Jennifer Dugan to illustrate "Coven." The young adult graphic novel is scheduled to publish in fall 2022.
Kay Stanton, professor of English, comparative literature and linguistics, authored the chapter "'For Me, I Am the Mistress of My Fate': Lucrece, Rape Culture and Feminist Political Activism," in Shakespeare / Sex: Contemporary Readings in Gender and Sexuality.
Tara Suwinyattichaiporn, assistant professor of human communication studies, and Zac Johnson, associate professor of human communication studies, published their study "The Impact of Family and Friends Social Support on Latino/a First-Generation College Students' Perceived Stress, Depression and Social Isolation" in the Journal of Hispanic Higher Education. Related: Mental Health of Latinx College Students Improves With Social Support
AWARDS AND APPOINTMENTS
Shaun Pichler, professor of management, was named an Outstanding Reviewer in the 2020 Emerald Literati Awards for Excellence by Equality, Diversity and Inclusion: An International Journal, for his contributions to the journal in 2019.
Chelsea Reynolds, assistant professor of communications, had her article "Building Theory From Media Ideology: Coding for Power in Journalistic Discourse" named Best Article in the 43rd volume of the Journal of Communication Inquiry.
Bey-Ling Sha, dean of the College of Communications, was appointed to the Society of Professional Journalists' board of directors for 2020-21. Sha was also appointed to the advisory committee for the Center for Diversity, Equity and Inclusion for the Institute for Public Relations.
Anthony Sparks, associate professor of cinema and television arts, will write and develop a new scripted series titled "Choir" after signing a first-look deal with Blumhouse Television. Sparks will serve as showrunner and executive producer for the series based on "America's Got Talent" runners-up Detroit Youth Choir.
Submit publications, presentations, awards or honors for this monthly roundup to newssubmissions@fullerton.edu.