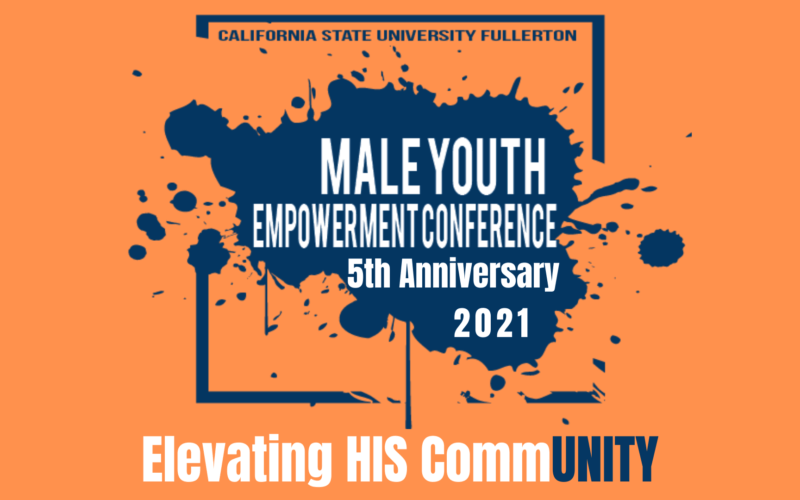 During Cal State Fullerton's fifth anniversary of the Male Youth Empowerment Conference for young men of color, the teens were asked what the event's theme, "Elevating His CommUNITY," meant to them.
Christian, a freshman from Watts, raised his hand, and shared that he wants to change the way others view people of color.
"I want to change the perception of Watts being so dangerous because there are good people here, too. I want to elevate my community to show the real Watts because it's beautiful here, not just what people see on the news."
Presented by the Center for Educational Partnerships and Male Success Initiative-Fullerton, the two-day virtual conference included a live program Jan. 22 and pre-recorded sessions on the MSI YouTube Channel, with programming highlighting social justice.
George Parker, MSI-Fullerton senior program coordinator, in opening remarks, reminded that men of color have experienced an intense past year, especially during the summer of 2020.
"We acknowledge that Black Lives Matter and we hope this year's conference will empower all young men of color to recognize that each has within themselves the power to elevate his community," Parker said. "We recognize this is needed now more than ever, especially during times of social unrest like we are currently experiencing."
Conference topics focused on scholarships and paying for college, campus virtual tours, Young Men of Color student panel, and motivational presentations by university and community leaders. Orange County United Way, State Farm and the Joseph Drown Foundation sponsored the conference. The university received a $25,000 grant from the Drown Foundation to support the program. (See related story)
Creating a Brotherhood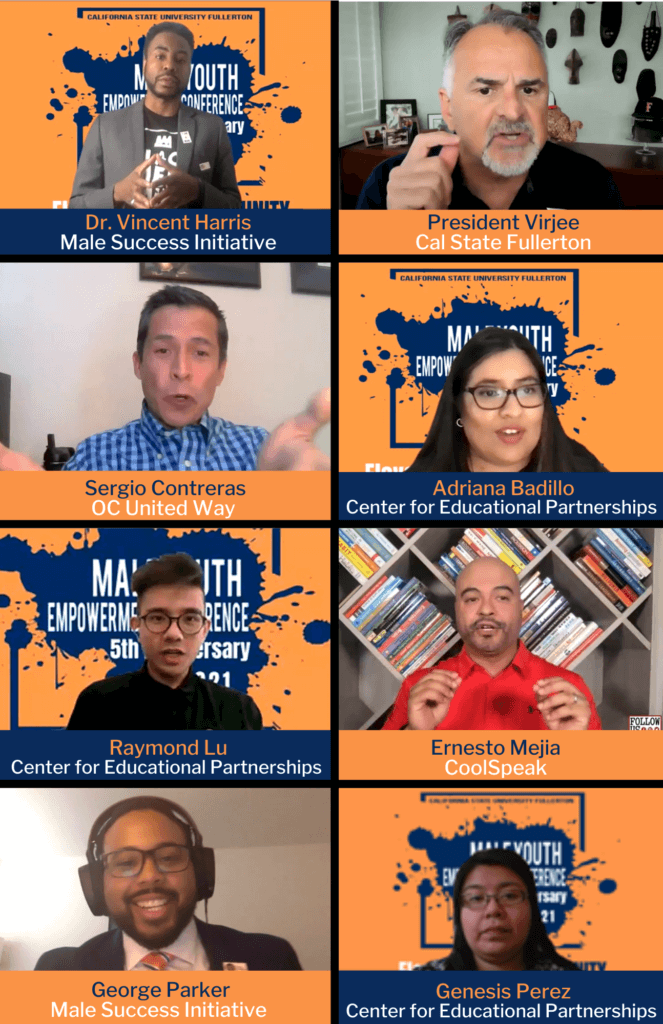 The purpose of the conference is to give male students of color in grades 9th-11th insight into college life and encourage them to prepare during high school for the next step of postsecondary education either at CSUF or elsewhere, said Vincent Harris, director of MSI-Fullerton.
"Through the conference, we demonstrate ways in which these young men of color view Cal State Fullerton as a destination where they can thrive, succeed and reach the fullness of their potential," added Harris. "We pride ourselves in creating an inclusive brotherhood that is not one-size-fits-all; it is created by a diverse group of brothers."
This year's goal is to reach 500 young men of color from Southern California high schools, with the conference content accessible for students and classroom teachers on demand through the MSI YouTube Channel, said Adriana Badillo, director of the Center for Educational Partnerships.
College Is Possible
Cal State Fullerton President Fram Virjee delivered the welcoming address, encouraging the young men to make change in their communities like Christian, while sending a powerful message that higher education is possible at CSUF.
"You are ready to elevate his community with your pursuit of a college degree," Virjee said. He told the young men to "do the work and stay the course, not just for yourself, but for your families and for those who will come after you — for your community."
Some teens may feel like they are not good enough for college, or can't afford college, Virjee noted. "We are here to loudly and proudly tell you that you belong. We need you here," he added, noting that financial aid to pay for college and resources to succeed are available.
"I'm here to reiterate what your teachers know, what your parents know: You not only belong in college, you belong anywhere and everywhere you want to go in life. You are not an imposter on a college campus; you are, in fact, its future."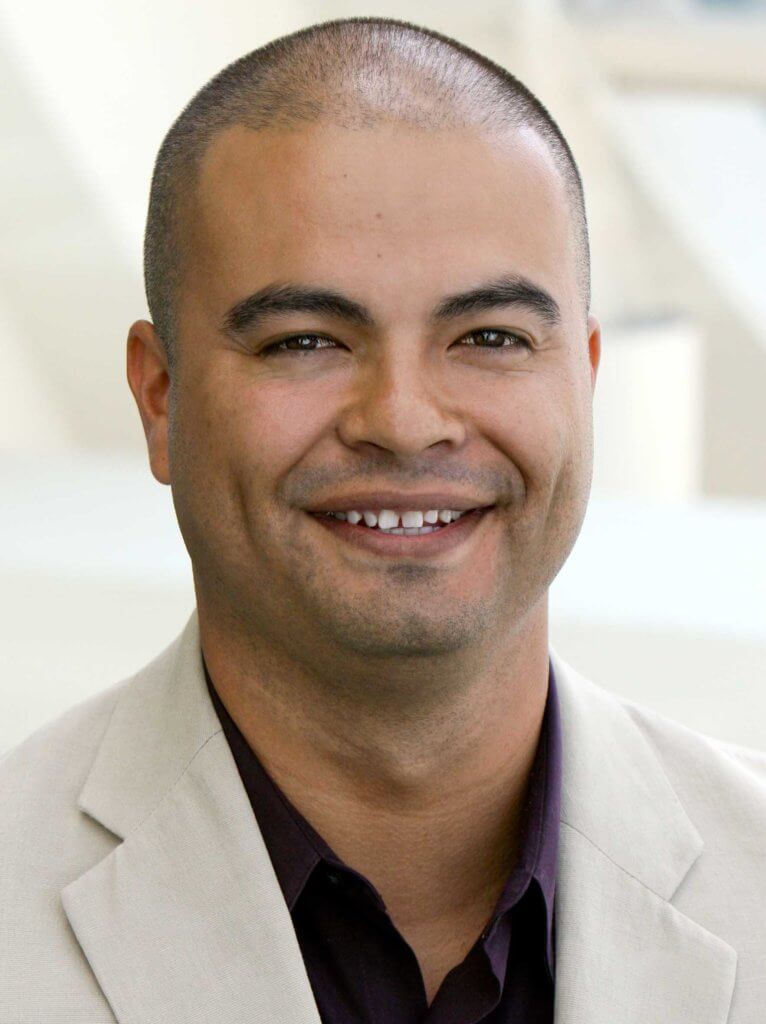 Keynote speaker Ernesto Mejia of CoolSpeak, the son of Mexican immigrants, relayed his personal journey as a child growing up in a racist community and overcoming obstacles to earn three college degrees.
"I am my parents' American dream," Mejia said, adding that he stood up for injustice and for his community.
Through his humble story, Mejia encouraged the teens to elevate themselves and to "push harder and try a little bit more."
"Our families are depending on us … and your community is depending on you."
Visit the MSI YouTube Channel for pre-recorded conference sessions and to watch the MSI Brotherhood video; speeches by Virjee and Mejia will be available soon. For more information, visit the MSI website.