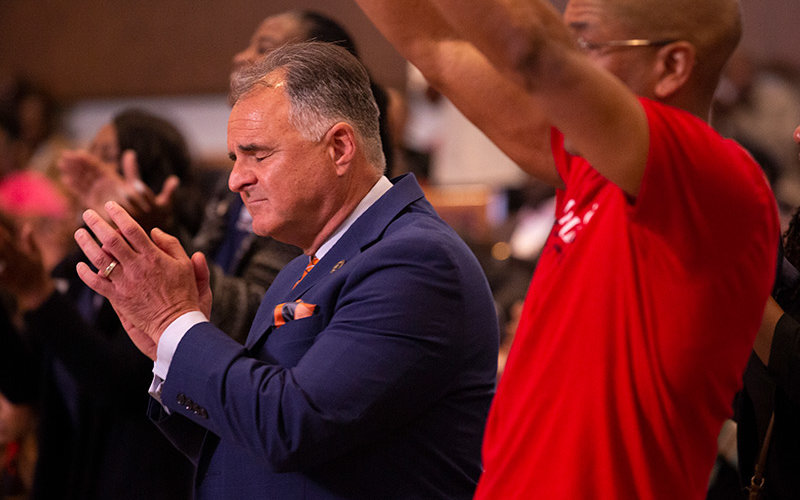 Every year, during Black History Month, President Fram Virjee and faculty/staff members from Cal State Fullerton visit different African American churches to encourage congregants (and their children) to attend college … and, specifically, Cal State Fullerton.
This year, because of the pandemic, in-person meetings weren't possible so the president virtually visited four local African American churches: Christ Our Redeemer (Pastor Rev. Dr. Ralph E. Williamson), Johnson Chapel AME (Pastor Rev. Delman Howard), Friendship Baptist Church (Pastor Rev. Kenneth Curry Jr.) and Second Baptist Church (Pastor Rev. Ivan S. Pitts). While the format was different, the message was the same: "Come to Cal State Fullerton. We want you, we respect you, we need you."
"Our Titan graduates are your teachers and nurses, your engineers and lawyers, your architects and artists, your parents and grandparents, your brothers and sisters, your aunts and uncles," Virjee said. "They were once in your shoes — wondering, hoping and perhaps even questioning if they had what it takes to succeed in college. For most, there were obstacles and yet they did it. And because they made it, with the transformative power of a Titan degree, they are not only making their lives better … but improving the lives of their families and indeed, the world.
"Just like them, you, too, have what it takes to succeed in college," he continued. "Not just any college — the best college in California: Cal State Fullerton."
Virjee pointed out the long history between the Black community and Cal State Fullerton. CSUF was the first university on the West Coast with a Black woman as president, Jewel Plummer Cobb. She was the granddaughter of a freed slave and when she was pursuing her college degree, she was banned from the dormitories at the University of Michigan because of the color of her skin. Today, the residence halls at Cal State Fullerton are named in her honor.
Her successor, Milton A. Gordon, served as president of the university for more than two decades. His academic journey began with being denied access to certain academic buildings because of his race. Today, an academic building on Cal State Fullerton's campus is named in his honor.
"We have a responsibility to not only celebrate Black History Month, but to make Black history," Virjee added. "A college degree can unlock life-changing opportunities that empower students to blaze trails, shatter glass ceilings and create Black history.
"We see it in the creation of our Institute of Black Intellectual Innovation, in our Titan Future Teachers/Men of Color program, in the work of our Black alumni and more."
The point of "Super Sunday" is to acknowledge that it's never too early to prepare for college, nor too late to return. With an estimated two-thirds of all job openings in California requiring a college degree, the value of a college degree has never been greater.
Over the weekend, Virjee as well as multiple presidents and staff from CSU colleges, will be celebrating with nearly 100 African American churches across the state.
"I know some of you will be, like me, the first in your family to go to college," Virjee continued. "Many of you, like me, will think you can't afford college or it will be too hard. There are times when we all feel like imposters — we don't belong, we aren't smart enough, we don't deserve it.
"I'm here to tell you, loudly and proudly, that at Cal State Fullerton, you do belong, you are smart enough, and you do deserve college. And we are here to help you.
"If you're a first-generation student, you'll be in good company. Nearly half of our 41,000 students are the first in their family to attend college," Virjee said. "Between Pell Grants, Cal Grants and the CSU's State University Grants — all financial aid programs — just about two-thirds of our CSU students have their tuition completely covered, without loans."
The president then went on to explain why the university needs these students.
"You bring incredible strengths to our campus," he said. "You are not an imposter on a college campus; you are its future. You do not burden us with your work, you lift us with your potential. You have the tools and tenacity to succeed beyond measure … and Cal State Fullerton would be honored to help see you soar."