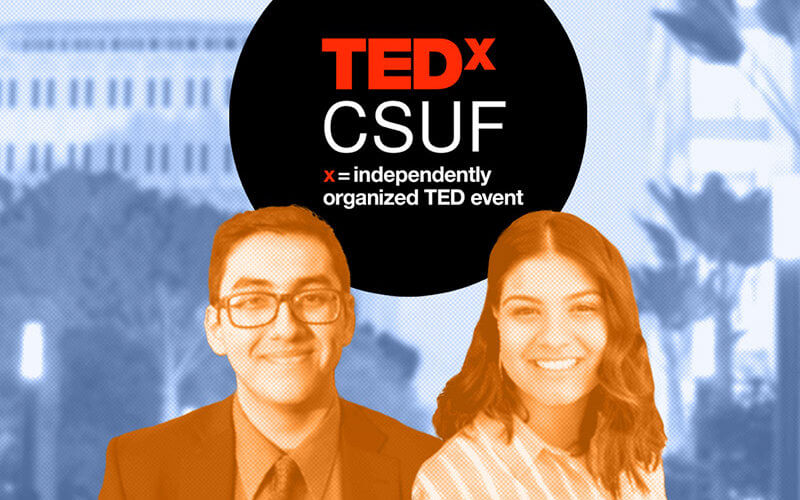 Inaugural TEDxCSUF Conference on Feb. 12 to Feature Students, Faculty, Alumna
Saleem Haider and Khira Mistry arrived at Cal State Fullerton as freshmen eager to jump into the vibrant student life on campus.
They discovered more than 200 student organizations on campus, but were surprised that the university did not have a TED Talks program, something they had both been involved in at Valencia High School (Placentia).
They decided to change that.
Getting the Program Up and Running
"We were inspired to create a TEDx program at CSUF to highlight the unique voices of the students and faculty," explained Haider, a junior in accounting who serves as the group's president.
He and Mistry, a political science and history major who is the organization's co-director, contacted the official TED organization about establishing a TEDx-licensed program at CSUF. The "x" means the group is officially sanctioned by TED and uses its standards but is independently organized.
After completing the extensive application process that involved nine short-answer questions, five essays, interviews and background checks, the duo also registered as a student group on campus and became part of the inter-club councils in the colleges of business and communications.
To drum up interest in the program, TEDxCSUF advertised on social media and at events like Discoverfest. The student-run group now boasts more than 100 registered members who engage in a variety of capacities — as board members, conference planners, writing advisers who vet speeches — all in preparation for the group's first TEDxCSUF conference.
TEDxCSUF Conference
"We are excited because the TEDxCSUF conference is the first opportunity for many of the diverse voices from our campus and community to be heard," said Mistry.
The free conference will be held virtually Feb. 12 at 5 p.m. and features topics from supporting veterans to linguistics to masculinity. The 11 scheduled speakers include community members and CSUF students, faculty and alumna Michelle Mehta, a teen confidence coach (see sidebar).
"Being a speaker for the first TEDx conference at the school that shaped me into the woman I am today is amazing," Mehta shared. "Having CSUF be a part of the TEDx brand makes the university shine even brighter."
Anyone may attend the event by visiting the TEDxCSUF website after Feb. 5 to obtain the Zoom link. After the conference, all the talks will be uploaded onto the TEDx YouTube page, allowing the speakers' ideas to be shared with millions across the globe.
What Makes a Good TED Talk?
Within the TED Talk parameters (no speeches on politics or religion), speakers can talk about anything. Haider has spoken on his passion for marching band, and Mistry has talked about Indian culture and her love of Bollywood dance.
"You need to choose a topic that you're passionate about and figure out how an audience can benefit from hearing about it," Mistry emphasized. "TEDx is a sharing platform, not a marketing or persuasion platform."
Haider added that when he considers a topic, his guiding principle is the TED Talk mantra — an "idea worth spreading"?
In talking with students, Mistry and Haider found that while many are interested in doing a talk, they don't know where to start. Thus, TEDxCSUF began offering CSUF Titan Talks workshops. The five-week workshop walks participants through the process of choosing a topic through presenting the speech. The first workshop was held in fall 2020, and the spring one starts March.
Haider reflects on how far the group has come and where he wants to lead it. "We want to be inclusive and reach the most people possible — faculty, students, staff and the local community. When we return to campus, I envision having 'pop up' stages for speakers on a regular basis, not just a conference — now wouldn't that be a cool, new campus tradition?"
Visit the TEDxCSUF website for more information about the group or to attend the conference.