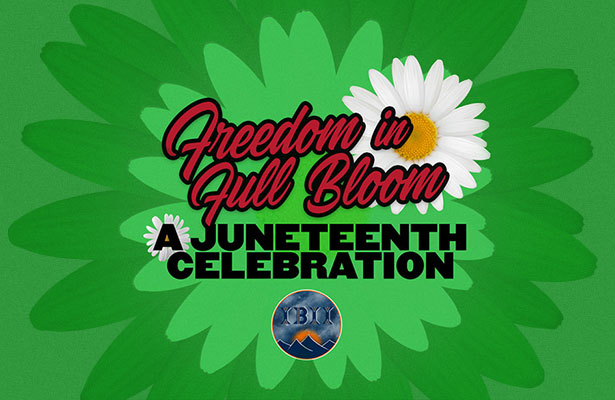 Juneteenth, which takes place on June 19, is a holiday memorializing the liberation of enslaved people in the United States. To celebrate, The Institute of Black Intellectual Innovation at Cal State Fullerton is curating a Juneteenth event at Segerstrom Center for the Arts this week.
Titled "Freedom in Full Bloom: A Juneteenth Celebration," the event will include interactive activities and artistic performances celebrating Black innovation and resilience in music, poetry, visual art and gardening.
About 200 people are scheduled to attend the event, said Natalie Graham, the institute's director and an African American studies faculty member. Graham, who is overseeing artistic curation of the event, has taught cultural studies for more than 12 years and is a published scholar whose research interests include food culture, masculinity, and regional identities.
"I'm thrilled about the overwhelming support of the community and from Segerstrom," Graham said. "The fact that the event sold out in a week's time, is testament to the growing recognition of and support for Black people in Orange County."
Jamila Moore Pewu, assistant professor of history specializing in digital humanities and new media, is the event's historical consultant. Her research interests include examining the historical, geographic and methodological perspectives posed by African Diasporic and/or Black Atlantic communities both past and present.
Gwen Alexis, lecturer in African American studies, will give a presentation that includes a pouring of libations and a reading of Margaret Walker's poem "For My People."
The event takes place at 3 p.m. on Saturday, June 19 in Costa Mesa. More details are available on the Segerstrom Center for the Arts event page.
About Cal State Fullerton: The largest university in the CSU and the only campus in Orange County, Cal State Fullerton offers 110 degree programs, and Division 1 athletics. Recognized as a national model for supporting student success, CSUF excels with innovative, high-impact educational practices, including faculty-student collaborative research, study abroad and competitive internships. Our vibrant and diverse campus is a primary driver of workforce and economic development in the region. CSUF is a top public university known for its success in supporting first-generation and underrepresented students, and preparing all students to become leaders in the global marketplace. Our It Takes a Titan campaign, a five-year $200 million comprehensive fundraising initiative, prioritizes investments in academic innovation, student empowerment, campus transformation and community enrichment. Visit fullerton.edu.
# # #
Media Contact:
Cerise Valenzuela Metzger, Associate Director of Media Services, 657-278-4856, cmetzger@fullerton.edu
Chi-Chung Keung, Director of Media Services, 657-278-8487, ckeung@fullerton.edu
Photo Caption:
Cal State Fullerton's Institute of Black Intellectual Innovation is curating the Juneteenth Celebration "Freedom in Full Bloom" at Segerstrom Center, on June 19.