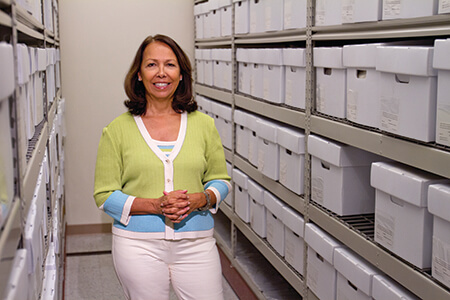 It all started when Victoria Vasques '76 (B.S. human services) was asked to host a party at her Virginia home for a group of Cal State Fullerton Washington, D.C. interns. Seven years later that inaugural reception has turned into an annual commitment.
"It has grown into a wonderful program," said Vasques, who hosts the intern reception and is a program donor. The Cal State DC program provides students with opportunities to learn and prepare for careers in politics. A total of 216 students have participated in the program since it began. Currently, about 30 program alumni work in D.C.
Vasques is no stranger to public service.
For more than 30 years, she has been an advocate for American Indians, has led education reform and promoted energy initiatives. As the president and owner of Tribal Tech, LLC, an American Indian woman-owned small business, she provides technical assistance and consulting services to federal, state, tribal and corporate clients.
Her career includes serving as assistant deputy secretary of the Office of Indian Education, U.S. Department of Education. She also was director of Indian Affairs at the U.S. Department of Energy. A member of the San Pasqual Band of Mission Indians, she has been named American Indian Woman of the Year.
At CSUF, Vasques has served on the Archaeo-Paleo Task Force and the Philanthropic Foundation Board of Governors, as well as the intern program. "I hope to be able to give back more to education, especially Cal State Fullerton," Vasques said. "You just want to thank those who helped you get there."
For more information about giving to the Cal State DC program, please contact Alina Mircea-Trotz, Director of Development, at amircea-trotz@fullerton.edu or 657-278-2559.