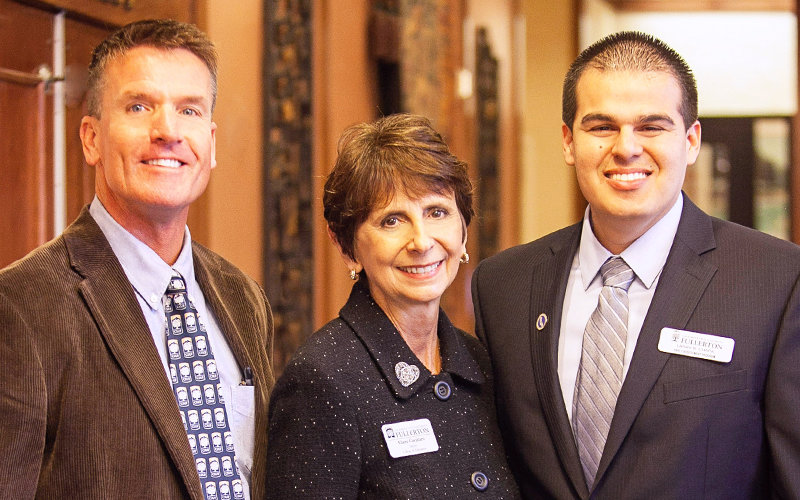 What:
Cal State Fullerton's Early Assessment Program hosts a Jan. 11, forum to promote California State University's College Readiness initiatives and resources to measure and improve high school students' preparedness for college-level coursework.
Who:
About 200 local school district superintendents, high school principals, vice principals, teachers, counselors and other educators are expected to attend the invitation-only "College Readiness Breakfast." The event features updates on initiatives and examples of innovative approaches to help get students ready for the rigors of college. Members of the media are welcome to attend.
When:
Monday, Jan. 11
8:30–11:45 a.m.
Where:
Fullerton Marriott, 2701 E. Nutwood Ave., Fullerton
Additional:
In recent years significant steps have been taken by the CSU and school districts to more concretely define and measure college and career readiness, said Larry R. Chapa, CSUF's Early Assessment Program and College Readiness coordinator. "This transition has spurred much innovation and creativity as schools and districts devise tangible systems designed to increase student preparedness for college and career," said Chapa.
In line with this, the college-readiness rate at CSUF has continued to increase each year. Since 2009, the number of CSUF freshmen who enter ready for college-level coursework in math and English — without the need for any remediation — has increased from 48.5 percent to 83 percent in fall 2015, Chapa noted.
"An 83 percent college-readiness rate is phenomenally good. Nationwide, remedial rates at four-year universities are between 35 to 45 percent, meaning those entering without remedial need is only between 55 to 65 percent," he said.
Schedule Highlights:
8:30 a.m. — Welcome, Claire C. Cavallaro, dean of CSUF's College of Education
8:50 a.m. — Lourdes Kulju, Outreach and College Readiness Program manager, CSU Chancellor's Office, "CSU Updates on College Readiness"
9:20 a.m. — Larry Chapa, CSUF's Early Assessment Program and College Readiness coordinator, "Remediation & College Readiness, the Broader Perspective"
9:55 a.m. — Jessica Wagoner, CSUF director of admissions, "Early Start Program"
10:30 a.m. — Chris Street, CSUF professor of secondary education and Early Assessment Program faculty director, "CSU Expository Reading and Writing" course for high school teachers
11 a.m. — April Moore, director, curriculum and instruction at Corona-Norco Unified School District, "Motivating Students toward College & Career Readiness"
Visit online for additional details.
Media Contacts:
Larry R. Chapa, Early Assessment Program, 657-278-8386
Chris Street, Secondary Education, 657-278-5905
Debra Cano Ramos, 657-278-4027