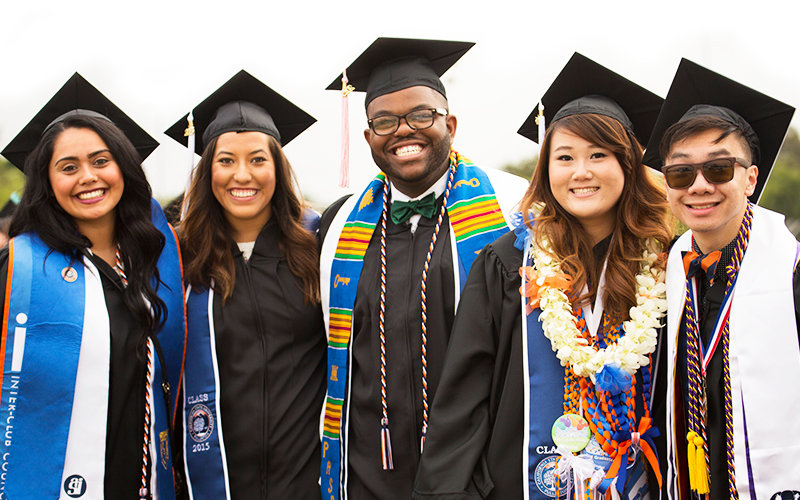 When students arrive at CSUF, one of the first things they may notice is the diversity of the campus.
"It's critical that students learn to work with and understand people from different backgrounds and cultures," said Joy Hoffman, director of Diversity Initiatives & Resource Centers. "For us, that's critical to the educational process. Students become better leaders when they can acknowledge the lived experiences of others and learn how to navigate the world through different lenses."
However, Cal State Fullerton also recognizes that putting these values into action is a little more difficult. For that reason, staff and resources are provided to help students find support and resources on campus.
For example, the Diversity Initiatives and Resource Centers house four identity-based centers: the African American Resource Center, established in 2005; the Asian Pacific Islander Resource Center, established in 2008; the Chicana and Chicano Resource Center, established in 1972; and the Titan Dreamers Resource Center, established in 2014.
"Although Cal State Fullerton is not a predominantly white institution, it is a historically white institution like many colleges and universities in the U.S.," said Hoffman. "The 'ways of doing' on most college campuses reflect the majority or dominant culture, so even if the percentage of students does not reflect a white majority, it is still often the cultural lens through which organizations function."
For many students, who may have grown up or been raised with different community and cultural traditions, let alone languages, adjusting to university life can be difficult.
"For instance, instead of being one of 20 black students in a classroom, they may be the only black student in the classroom," Hoffman continued. "And although we are a Hispanic Serving Institution and Latinos make up more than 37 percent of our student population [the highest percentage on campus], it doesn't necessarily remedy feelings of isolation. Centers and student clubs become spaces where students feel comfortable speaking first languages, engaging in critical conversations and connecting with students who may have similar experiences."
Of course, it's also important for universities to employ highly qualified and diverse faculty and staff members. The Division of Human Resources, Diversity and Inclusion, which was created in July 2013 and is unique in the CSU, is responsible for implementing this key component in the University's strategic plan.
As would be expected, academics also plays a critical role — to that end the University has long embraced programs that focus on different ethnicities, such as African American, Chicana and Chicano, and Asian American studies, as well as a variety of foreign language programs. One of the newest programs under development focuses on the Vietnamese culture and language.
"However, when we talk about diversity on campus, ethnicity is just one part of the discussion," said Rochelle Woods, executive director for special populations. "It also includes characteristics, such as gender, age, sexual orientation, religion … and we actively look for ways to help our students succeed in and out of the classroom. For instance, on many college campuses female students outnumber males. [Females make up 56 percent of students at CSUF.] We've discovered that the difference is even greater among women and men of color. So in 2013, we developed the Male Success Initiative to assess needs and provide resources to men of color to encourage and retain them through transformational experiences and promote persistence to graduation.
"We know that the graduation rates of Latino and African American students trail other ethnic groups," she continued. "The University's goal is to narrow the achievement gap so that every student is successful in accomplishing their educational goals.
"Through our strategic plan, we are looking at high-impact practices to engage students; scholarships and funding so students can complete their education; changes in curriculum to help move students through 'bottleneck classes,' so called because there is a high-failure rate; and programs such as resource centers, where they can seek further support.
"I think that the University is proactively seeking ways to address challenges to ensure our students get the education and support they need to be successful."
Other areas where Cal State Fullerton has taken a leading role in fostering diversity include the following:
Strengthening diversity elements in the faculty recruitment university policy statement
Providing diversity training for faculty search committees
Broadening advertising recruitment
Collaborating with the Academic Senate on diversity issues
Strengthening on-boarding and training efforts led by the Faculty Development Center
a centralized startup funding model to ensure all new faculty receive adequate startup support.
President Mildred García has said, "As a regional university that prides itself on having a global outlook, we will remain steadfast in our commitment to provide life-enriching opportunities to all of our students, by exposing them to the challenges, the diversity and the wonders of our world — and in so doing, preparing them to make it a better, safer place."